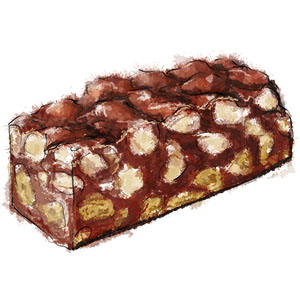 So go on, confess, did you read 50 Shades of Gray? This was the question posed recently by my cousin to a room full of our relatives.
Lots of head shaking all round. Nobody had done more than heard of it vaguely, in passing, and nobody apparently knew what on earth it was about, and why there should be such a fuss. Even one aunt, who'd been given the book for Christmas as a joke. Hadn't even had a flick through out of curiosity. Nope. We are all nuns. Nobody knew the first thing about it.
Personally, anything requiring a disclaimer is not my idea of a good night in. These chocolate treats and a glass of vin santo, however? Yes.
Chocolate Amaretti Treats
4oz butter8 oz chocolate 3 tbsp golden syrup 10 oz amaretti cookies 3 oz dried cherries soaked in water / brandy for 20 mins to plump up 3 oz white chocolate chips
Line a brownie tin (about 8 inch square) and butter with the butter wrapper
Melt the chocolate, butter and syrup over gently simmering water (or in short bursts in the microwave).
Stir in the cookies and cherries. Once the mixture is warm rather than hot, add the white chocolate chips.
Pour into the pan, level, then leave in the fridge to set for a couple of hours. Slice into bars with a knife dipped in hot water. Dust with icing sugar and coco powder for beauty.