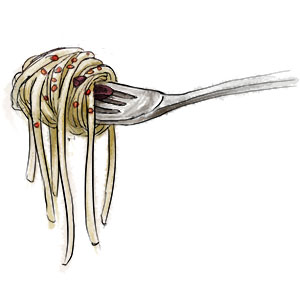 Jo, aged almost 3, went to see the play version of The Snowman as his seasonal theatre treat. If you don't know the story of the boy and his snowman who comes alive one night to transport him on a wonderful adventure, what follows is a major spoiler alert.
As the lights went down, the music played and the snow fell in a magical glittering flutter, Jo piped up in a loud clear voice, "He melts, you know."
At the end he stood up to comment again, "I told you so."
Truth. Right there. Truth.
Linguine with roasted lemons, olives and capers.
A sprightly pasta dish that can be on the table from thought to fork in 20 mins flat (serves 4)
1 packet of linguine salt and pepper 3 lemons 2/3 cup green pitted olives 1 tbsp rinsed capers 1 tsp chili flakes olive oil Parmesan  
Slice the lemons into wedges. Drizzle with olive oil, season well, then roast in a hot oven until they start to caramelize (about 15 mins)
Meanwhile, get a big pot of water on to boil. When it does, salt liberally, add the linguine, stir, then cook for one minute less than the packet recommends.
Drain the pasta, and put it back in the pan. Squeeze in the roasted lemon juice (use a towel to protect your hands), mix in the olives, capers and chili. Season well, and dress with olive oil.
Serve with a good grating of parmesan cheese.