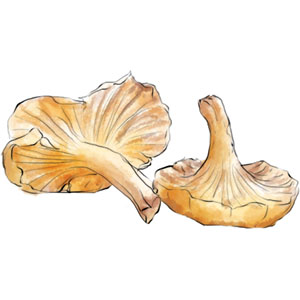 Season of mists and mellow fruitfulness well underway, and vegetarians set to come to dinner on Friday, Jon and I were faced with the inevitable Sophie's Choice: Squash or Mushrooms?
As far as I'm concerned, squash. Every time, squash. Cannot get enough of it. Nowhere near done with it. Roasted, sautéed, pureed, soup-ed, stuffed, bring it, September through January.
"Mushrooms," said Jon. "We always have squash."
Since this is true, I took the point and set to with my mushroom brush. And here's the thing: I'd forgotten how good mushroom ragu really is. Meaty and woodsy and exactly the thing for a dark Autumnal night. A fennel, apple, pomegranate salad to start. A tarte tatin to finish. Red wine. Lots of it. And the first log on the first fire of the season. A good night.
Serves 4
(I work on the principle of at least a cup of mushrooms per person – try to go for a variety of interesting ones, shitakis, chantarelles, trumpets, and bulk them out with portabellas and chestnuts as your budget allows.)
4 cups of mushrooms
1 fat clove of garlic
1 tbsp butter
2 sprigs of fresh thyme
¾ cup vermouth (or white wine)
½ cup heavy cream
Parmesan cheese
1 box of penne
Boil a big pot of water. Salt and put in the penne. Set a timer for 1 min less than the box suggests.
Melt the butter in a frying pan. Slice and add the mushrooms. Season well.
Keep cooking as the mushrooms go flabby, then suck back in again and roast. Grate in the garlic. Add the vermouth to deglaze the pan, then add the cream. Let everything bubble and thicken slightly.
Reserve about a cup of the pasta liquid, then drain the pasta and toss into the mushroom sauce. Grate in about ¼ cup parmesan and toss everything together. If the sauce seems stiff, add a little bit of pasta water to bring it together into a glistening slick.
Serve with more cheese and plenty of black pepper.