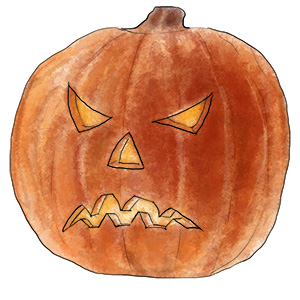 Last week, we took my visiting parents to Blaze, a pumpkin festival in a somewhat mythical place that city-dwellers refer to as "upstate", which turns out to be about an hour out of the city near Sleepy Hollow. It is a common urban-living fantasy to rent a car, and head "upstate" for the day to see fall colors and eat apple cider donuts, both of which we did.
As night fell, we headed under the glowing pumpkin arch, hot apple ciders in hand, and began to explore Blaze, a magical series of tableau constructed entirely out of pumpkins, glowing warmly into the cold dark. It was about as Fall as Fall gets, really. Unless you're eating pumpkin soup. In which case, that's as Fall as Fall gets.
Serves 4
1 can of pumpkin
1 tray of pre cut up squash (or half a small squash tat you've peeled and de-seeded and chopped yourself like a grown up)
1 large onion
2 cloves garlic
1 can chick peas
1 can chopped tomatoes
1 handful ditilini pasta (the very tiny kind)
4 cups of spinach or kale – something green and leafy
+ pretty much any CSI vegetables you want to get rid of, cut into similar sized pieces as the squash. Not by any means necessary to add extra veg, but pleasing.
Peel and dice the onion. Get it into a large pan with a good slug of olive oil, season really well, and let it cook gently until translucent – about 5 minutes.
Grate in the 2 garlic cloves and toss in the oil to coat.
Add the squash, any CSI vegetables that are not leafy (swede, carrots, parsnips, fennel, leek, sweet potato, yam …) the can of pumpkin, and the tomato. Add 6 cans worth of water, clamp the lid on, and cook until the cubes of squash (and other veg if using) are tender (about 20 minutes).
Rinse the chickpeas and add along with the ditalini and the spinach.
Put the lid back on and simmer until the pasta is cooked (about 5 minutes, though check the packet for instructions since they come in all kinds of different sizes).
Serve with a generous grating of parmesan and a grind of black pepper.