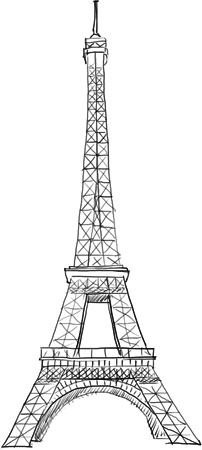 Today is my wedding anniversary.
I got married to Jonathan 2 years ago on a Saturday, and we moved to New York the following Saturday. In between, we spent our honeymoon in Paris, city of romance.
I had some previous experience of Parisian romance as it happens.
When I was 15 my best friend Melanie and I managed, quite remarkably, to persuade our parents that we should be allowed to spend some of the summer holidays "perfecting our spoken French for GCSE" staying in a dodgy studio apartment in what turned out to be the red light district near the Pompidou Centre. Even more remarkably, Melanie was actually taking German GCSE.
Though our neighbors to the right were a revolving band of rent-by-the-hours, the neighbors to our left were a joyous couple of transvestite cabaret dancers with a penchant for late night Absinthe parties. It was they who introduced us to the local bar.
This was the Paris we had hoped for; dark and velvet and mirrored and full of rowdy show girls and darkly handsome men with motorbikes parked on the street outside. There was a piano in the corner for impromptu sing-alongs. The barman had a mustache. There was even a resident poet drinking on a banquette. We spent our days sleeping and our nights drinking bottles of cheap red wine, and riding around the Arc de Triumph on the back of motorbikes with unsuitable French men. The whole trip was highly educational in many ways, not the least of which was learning a whole variety of interesting new swear words.
Jonathan knew nothing of this until we were nearly hit by a vesper crossing the road from the Louvre and all my French came flooding back to me.
As I recall, Melanie and I were on a pretty tight budget, and we decided fairly early on that food could be rationed in favor of wine. We lived on bread and cheese until we decided we were probably going to catch scurvy, then we ate a tangerine. But nightly in the bar at around 2 am, little trays of food would emerge from the pocket-sized kitchen. Garlic toasts, ramekins of creamy mushrooms, squares of lemon cake with a sour lemon syrup, steaming asparagus spears, sweet sticky caramelized apples, hot baked camembert with chicory leaves for dipping. But the late-night Treat of Treats was a dark rich shot glass of smooth chocolate.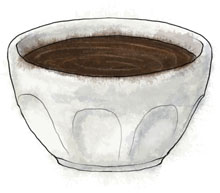 And so it was that late that evening my very new husband and I walked around a Paris glistening with a fresh slick of rain, glittering golden in the street light and found a bar and sat with an Armagnac. There was only one thing on the menu, so that's what we ordered to eat. It was not the same bar, nor was it the same part of town, but as soon as the velvety chocolate touched my lips, it was precisely the same Paris.
Dark Chocolate Pots
Ingredients (serves 4- 6 depending on the size of the pots that you are using)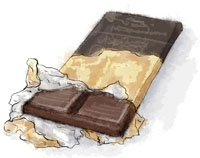 2 bars of good chocolate (about 8 oz)
3/4 cup of heavy (double) cream and ¼ cup of milk
1 large organic fresh egg.
Break two bars of dark chocolate into pieces in a bowl.
Pour the ¾ cup of heavy cream and ¼ cup of milk into a pan and heat until it's just about to boil.
Tip the hot cream/milk over the chocolate and count to 20.
Whisk the melting chocolate into the cream until the color is uniform.
Crack in the egg and whisk again. You're not trying to whip up the mixture, just mix everything well.
Pour the mixture into a jug, then from the jug into the little pots. Put the pots into the fridge and let them set for two hours.
Optional – just before serving, sprinkle with sugar and use a broiler (grill) or a blowtorch to create a scorched brulee topping. If you're doing these for a crowd, people love to do the blow torching bit themselves.
Note: This recipe contains partially cooked, basically raw, egg. Make sure you buy good organic eggs that you trust, and don't give this to pregnant or frail people. You can substitute 2 tbsp of mascarpone for the egg if you want to – it's not the same but it is still good – and serve it cold from the fridge to get a better set.
If You Can Make That You Can Make This: