I love Nutella. If you don't, I think it unlikely that we will be friends.
This is ideal for gliding into the week on a velvety chocolate high.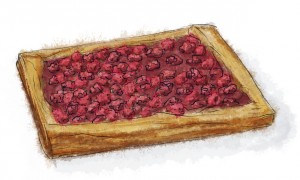 I made it for Adam a few days after he discovered by receiving the wrong text message, that Carl was in fact seeing another man.
LKNG FWD TO LKN U 2NITE.
It was Thursday and they never met on Thursdays. Carl went to drawing classes at the American Institute of design on Thursdays. Eventually he came clean. He had to really. The gig was up.
On Friday Adam raged against the injustice of the world. He furiously returned the tie that he had bought to match Carl's shirt when they had planned to attend a summer wedding together. Then he went out to get drunk. Lady Gaga was involved. That was when he discovered that;
a)Â Â Â  Relationships were constricting! He was a free spirit! He could not be tied down to convention!
b)    Carl was an asshole! He wasn't worth thinking about! He was also, on reflection, not very good in bed!
c)Â Â Â  The lyrics to Poker Face were actually filled with profound meaning if you listened carefully enough.
On Saturday misery set in. Adam lay tearfully on the sofa watching people get their houses/community centers rebuilt on an Extreme Home Makeover marathon until his eyes were red and sore. He retreated to bed with a headache. The ephemeral puppy that he and Carl had talked about adopting one day ran through his thoughts. They'd never had time to go to the noodle restaurant in the East Village that Time Out said was just like being in Vietnam, and now they never would. There would be no evening getting all dressed up and going to the ballet. Ballet! They'd only managed to go to the movies once. Their hands had touched through a soft slick of butter in the popcorn and they had left early.  The relationship that had seemed so solid had been painted on backcloths, a set for a play. It was both over, and had also never really been.
On Sunday, a committee of anxious friends was formed to break in, open all the windows, suggest showering, mull, bitch, cajole and comfort, and broker a deal about the resumption of life.
My role was to provide the food. This is what I made.
Nutella Raspberry Tart (serves 6. In theory.)

1 sheet of defrosted puff pastry
1 cup of Nutella (or thereabouts)
2 tbsp of cream (heavy)
2 punnets of raspberries (about half a pint)
Chocolate and vanilla ice cream to serve
Lay the pastry sheet onto some parchment and roll out to get rid of the creases. Score a border around the edge and prick the pastry in the middle with a fork.
Mix the Nutella with the cream to loosen it up, then spread it over the pastry inside the border. In a pinch you could just use Nutella. It will still taste good.
Top with half of the raspberries.
Put the tart onto a tray and into a pre-heated oven and let it cook for 20 – 25 mins. If your oven is a bit old and unreliable, like mine, turn the tart around half way through cooking in case one bit of oven is hotter than another and the tart cooks unevenly (i.e. one part raw, one part ash, as in my oven).
Once cooked, top with the rest of the raspberries.
Serving Suggestions
Serve with ice cream. Almost essential
Or with heavy cream
Grate dark or white chocolate over the top