It's hot outside and grapefruit are on special offer at the fruit stall. That's more than a good enough reason to consider making a pitcher of cocktails.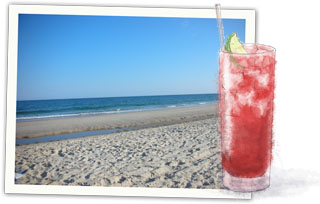 Perhaps it's the color – a gorgeous rosy pink. Perhaps it's the name – evocative of beachy get-aways – but in the middle of a swelteringly hot week in the city, a fresh, sweet-sharp Sea-Breeze feels like a good idea.
Sea-Breeze (for 4-6Â  glasses)
1 part freshly squeezed grapefruit juice (1 ½ cups)
1 part cranberry juice (3 cups)
1 part vodka (1 ½ cups)
Mix in a jug and serve over ice.
And with your Sea-Breezes, something that can stand up to the acid of the juice – sea salt kettle chips would be perfect. Or if you feel like cooking how about;
Bruschetta with ricotta and artichokes
Ingredients
½ French stick
Jar / deli container of artichokes
1 cup of ricotta
1 lemon
Salt, pepper, olive oil
Cut the bread on the diagonal into thin slices
Brush one side with olive oil and sprinkle with salt
Bake in the oven at 400 for 5 minutes watching it to make sure it doesn't burn (this depends on the thinness of the bread)
Mix the ricotta with the zest and the juice from the ½ the lemon season with a pinch of salt and pepper.
Spread the ricotta mixture on the bread and top with the artichokes – cut them lengthwise into halves or quarters if they are too chunky
Grind black pepper over the top and serve
Add a green salad with a squeeze of lemon and olive oil, and maybe some cheese and a handful of black olives and you've got yourself a dinner.