"I wouldn't say it was a good date, really. No." said friend Sara as we sloshed the white cranberry juice into the shaker.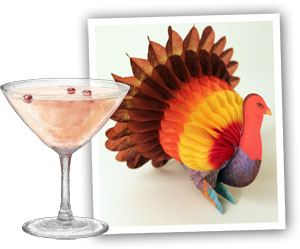 Sara, you may recall, has been taking positive action since discovering herself to be in the middle of something of an epic dating drought. She signed up for free on-line dating trials, which were certainly turning out to be trying. Hence the girl talk and cocktails.
"It was a bit awkward at first but by the time I finished my first glass of wine we were chatting away. He was telling me about being in a Thanksgiving play in kindergarten where he had to dress up as the turkey. I mean, you always hear about it, but how often do you actually get to meet the kid who was the actual Turkey?"
"Not all that often?"
"Pilgrims, all the time, but the Turkey … I mean, poor guy. But he was funny about it, so that was cool. Kinda endearing. So I said, did he want another beer? And he said, sure, and then he looked at his phone and turned pale. I thought he must have heard some terrible family news or something like that. He stood up and said that he had to go like Right Now. His tribe was involved in something on some on-line role playing thing and he was needed back at the fort."
"Really?"
"And he left me with the check." She took a big sip of her drink.
White Cranberry Cosmopolitan
A white cranberry cosmo is what to drink if you really really want a cosmo – and why not? They're delicious and they're pink! – but you don't want to look to your friends like someone who just got off the Sex and the City tour bus – though again, this is really fun – I went with a German friend and his boyfriend who sang in drag cabaret, when I first came to New York – the tour guide jacked us all up on cupcake frosting, took us to a sex shop and let us watch tv and sing along to Moon River.
Anyway, this is a more sophisticated, stealth cosmo for people who care about such things – or for people – like me – whose husbands bought white cranberry juice thinking it was apple juice (don't even ask) and therefore have something of a glut.
White cranberry juice is sweeter than regular cranberry juice, which is why I use a lemon vodka. If you just have plain vodka, consider upping the lime.
1 shot of white cranberry juice
1 shot of vodka (absolut citron for preference)
½ shot of cointreau
Juice of half a lime (or less – I like mine lime-y)
Mix in a shaker and pour into a martini glass. Add frozen cranberries to keep the drink cold
Baked Camembert with Cranberry Sauce
Getting ahead on Thanksgiving cooking, the cranberry sauce that anoints this softly melting camembert can be pressed into service again on the Big Day.
Cranberry sauce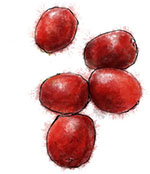 1 bag of cranberries (350g ish)
1 cup (200g) sugar
¼ cup port (50ml)
½ cup orange juice or water (100 ml)
Pour everything (though maybe keep back few tbsp of the sugar) into a pan and heat for ten minutes. Give the hot sauce a vigorous stir to crush most of the berries
Taste (it's super hot, so be careful!) and see if it's too sour – if so, add the rest of the sugar. In the unlikely event of it being too sweet, add a squeeze of lemon
Chill – the sauce thickens as it chills – cover and refrigerate for up to 2 weeks (or bottle in sterilized jars)
Baked camembert
1 camembert (or Brie)
2 tbsp cranberry sauce
1 French loaf – or crackers, crudités, chips, breadsticks etc for dipping
Unwrap the camembert then put back into its wooden box (or lay on parchment paper)
Spread the cranberry sauce on top
Bake at 350 for 15 – 20 minutes – it should ooze at the touch and the cranberries should be hot
Spread on French bread or dip into with crackers / celery / apple slices etc