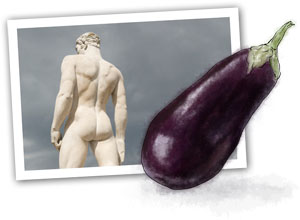 "You know that old saying, chocolate's better than sex – but only if you're doing the sex wrong?" said friend Annie as we chatted on Skype earlier this week.
"Well Angelo (Italian boyfriend of 6 months) says that chocolate doesn't come close; if he had to choose a potential better-than-sex food it would have to be parmigiana. Which leaves us with a dilemma. Because if the parmigiana is better than sex, then we're not doing the sex right, but if the sex is better than parmigiana, then we're not making the parmigiana right.
It's basically going to be a great weekend!"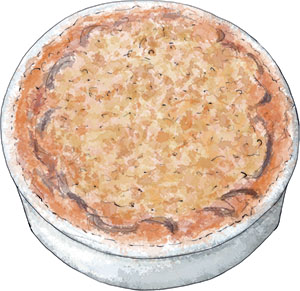 I first ate eggplant parmigiana, or aubergine parmigiana as I would have (and still do) think of it Рin a caf̩ on the edge of a car park near Vesuvius, before wandering around the ruined city in the bright spring sunshine looking out for rude BC graffiti on the walls of buildings eerily preserved by ash and lava.
I was a teenager, on holiday with my parents and my younger sister, and thus protected on all sides from the advances of suave Italian men on vespers who offered to take me with them to see more private monuments. Not that I could have been tempted away from heaven on a plate in any case: the gooey mozzarella, the crunchy breadcrumbs, the sweet tomatoes, the unctuous aubergines. I would happily have settled in for the rest of the day.
Of course, since then, every attempt to cook aubergine parmigiana is an attempt to recreate this experience, captured in the amber of memory, the Platonic ideal of the dish.
Eggplant Parmigiana (serves 2 – 4 depending on appitite)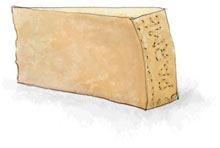 1 eggplant (or two baby ones – like the ones in our vegetable box)
1 ball of mozzarella
½ cup grated parmesan
½ cup breadcrumbs
Olive oil
1 tin of tomatoes – I use whole plum tomatoes and chop them in the can by wiggling my knife around. My brother-in-law once worked at a tinning factor and tells me that the tomatoes that weren't good enough to be canned whole went into the chopped and crushed tins, so I've fastidiously avoided them since.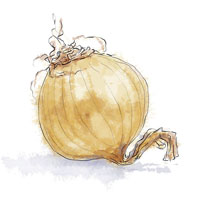 1 onion
1 clove of garlic
½ tbsp butter
½ tbsp milk or cream
Salt and pepper
Eggplant parmigiana is a two step process – tomato sauce then the baking of the eggplant. Obviously you could buy a jar of marinara sauce, but this is a simple sauce to make, and once you've got the hang of it you could use it as pasta sauce, or lasagna sauce or tomato soup …
If you have celery, carrots – any old (non root) vegetables knocking around – for example, from a massive veg box delivery – dice them and add them to the tomato sauce – for picky eaters, blend this sauce before using and nobody will be any the wiser.
Pre heat the oven to 400
Dice the onion and fry in a tbsp of olive oil until soft. Season with salt and pepper
Add the grated or finely chopped garlic clove and cook for a minute – don't let it burn
Add the tinned tomatoes, the butter and the milk (the dairy really brings out the sweetness in the tomatoes and stops them tasting tinny or acidic)
Simmer gently for 15 minutes adding a splash of water if necessary until the sauce is thick and rich
While the sauce is simmering chop the stalk off the eggplant and slice into 1cm thick disks
Sprinkle with a little salt then place on one paper towel and cover with another – this will draw out a little bit of the water (5 mins). Rinse the salt off then pat dry again
Heat a griddle pan (or frying pan)
Brush the eggplant slices with olive oil and sear for a few minutes per side to get some color
From here on in it's an assembly job:
Spread some tomato sauce on the base of a baking dish
Layer some egg plant on top
Sprinkle with parmesan
Rip up half the mozzarella and scatter it around
Now for more tomato sauce, more eggplant, more parmesan and more mozzarella
Finish by sprinkling some breadcrumbs and parmesan on top
Bake for 30 minutes
This dish can be baked ahead of time, kept in the fridge then reheated in the oven until it's bubbling and hot.
If you can make that you can make this:
Substitute zucchini (courgette) for the eggplant
Or mix zucchini and sliced fennel
Or cubes of squash
Cut the eggplant into disks then slice again into long wedges. Add a cup more water to the tomato sauce and add a few handfuls of rigatoni to the layers before baking
Add a cup of stock to the tomato sauce to make tomato soup
Add a cup of stock a can of mixed beans and  a handful of baby pasta to the tomato sauce to make minestrone soup
Add a splash of cream and vodka to the tomato sauce to make vodka sauce for pasta
Add capers, chopped anchovies, a generous tsp of chili flakes and a handful of chopped olives to the tomato sauce to make a puttenesca pasta sauce