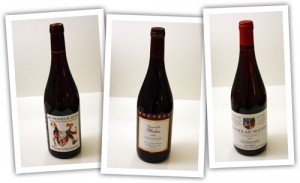 My sister Sarah is the Wine Buyer for Amathus Drinks, a London based importer and wholesaler. I know, great job, right? She discovered her calling at University where she became that rare thing, a discerning student drinker. Upon graduating she had to break the news to our tea total Methodist grandparents that she was going to study for her Masters in Wine rather than, as they had hoped, becoming a doctor. As with all things wine related, I bow to her vastly superior knowledge and palate, and leave you in her more than capable hands.


My sister tells me that Beaujolais is the classic pick for Thanksgiving, and, like most of the best traditions, there's some method to it. It's often tricky to find a wine that won't overwhelm the flavour of turkey, but that will also be able to cut through the rich and sweet flavours of gravy, sweet potatoes butternut squash, marshmallow topped yams (can this really be true?) and the rest.
The way that Beaujolais is made specifically creates a light bodied, fruity, easy drinking wine. The process is called carbonic maceration. The grapes are not crushed before ferment so that a mini fermentation occurs inside each grape, which gives the wine a strong colour, yet low tannins.  It also leads to a very noticeable tinned/canned strawberry flavour on the nose.
Beaujolais can be made at various quality levels from AOC Beaujolais, Village wine, and single Domaine named Village wines also known as Cru Beaujolais. A few of my favourite villages to look out for are from:
Chiroubles – known for some of the lightest crisp fruity wines from some of the highest vineyards in Beaujolais
Fleurie – slightly heavier bodied wines with great redcurrant jelly flavours and spice on the palate
Morgon – which offers the fullest examples of Beaujolais usually with an earthy richness.
Beaujolais Nouveau, a style of wine that only has a few days to ferment, is a great Thanksgiving choice, partly because it's only released on the 3rd Thursday in November, so there's an inherent novelty value. Old Beaujolais Nouveau is really not the point – you want to buy 2010 or not at all. These tend to be even lighter and more overtly fruity then traditional Beaujolais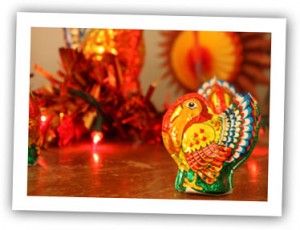 (which will generally be 2009 now). Beaujolais breakfasts are common across France and they are a great celebration for winemakers to already have wine entering the market so soon after harvest, however in my experience the quality of these wines can be a little hit and miss so ask the advice of your local wine merchant about which producer to try – or better still – taste before you buy.