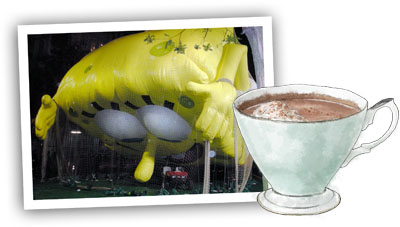 The thing that astonishes me about Thanksgiving is how quickly something becomes a tradition. This will be my 5th celebration of the holiday, my 3rd in New York, and already there are things I have to do otherwise it just wouldn't be a real Thanksgiving.
One of these things is watching the balloons being blown up for the parade at the Natural History Museum. The first year we lived in the neighborhood we had no idea what was going on. The streets were mobbed with children and people with strollers – a beyond terrible idea – streaming north up Columbus Avenue. The distant bossy ring of a public announcement floated in on the wind. We wandered up towards the action to take a look, got into a grid lock round about 75th street and came home for a drink instead.
A few hours later, curiosity piqued, we tried again. All around the museum balloons the size of small bungalows bobbed inside their nets, weighed down with ropes, waiting to fly. We watched, rapt, as a flaccid clown inflated before our very eyes. We admired a monolithic Dora the Explorer, though we had no idea who or what she was – overheard in the crowd; "Who is that?" "Oh, that's Dora The Explorer. She's basically crack for the under fives." We took photos of ourselves in the dark with a great hulking Buzz Lightyear. Then, as the lights were turned off and the security guards locked the pathway, we went to a frenetic ShakeShack for a cheeseburger.
Last year we had a plan and friends in tow; starting at ours for drinks, then heading to the museum about half an hour before the end of the inflating to dodge the heaviest child-filled crowds and taking re-purposed Starbucks cups of boozy hot chocolate to sip in the crush. And then we went to ShakeShack.
Now, of course, it's a tradition. I've already bought the vanilla vodka.
Hot chocolate with vanilla vodka (per serving)
The vanilla vodka gives this drink an almost cake-ish quality, in the same way that it turns hot apple cider into pie filling.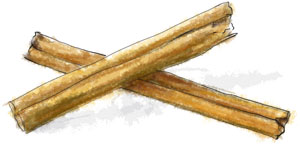 ½ bar of good quality dark chocolate
1 cup of milk
1 tsp brown sugar or honey
1 cinnamon stick
1 shot of vanilla vodka
1/2 cup cream (whipped)
Cocoa powder

Heat the milk, sugar and cinnamon in a saucepan until nearly boiling then take off the heat
Break up the chocolate and drop into the pan
Count to 30, then whisk the melted chocolate into the milk (returning to the heat if necessary)
Add the vanilla vodka
Float whipped cream on the top, decorate with cocoa powder then drink
Happy Thanksgiving!