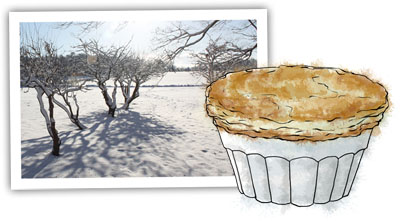 It's Christmas Eve.
I'm in Wigan celebrating a double whammy with my family. That joyful Christmas hunkering down feeling; the shops are shut, there's nothing else to do but sit and wait for morning. Also, my grandparents' wedding anniversary. They have been married for 71 years.
That's a lot.
On their 70th anniversary, a reporter from the local paper came to interview them.
"What's the secret of a happy marriage?" he asked.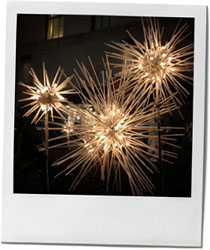 My grandfather looked at him as though he'd asked him to wrestle in jelly or adopt a baby shark.
"There isn't a secret," he said.
Pie is probably not the key to a lifetime of couple-ness, but in my grandparents' case, it probably didn't hurt.
They planned their wedding to give them leave over Christmas, so that they could go to Blackpool for a honeymoon, and then it was back to life in Wigan, which is when Grandma discovered that she had a problem; she had moved straight from her Mother's house to her own, and had never cooked anything before. She asked the lady on the sewing machine next to her what she should make for dinner.
"Pie" came the reply.
So that's what they ate, in the dishes they were given as a wedding present and still use now.
When my Grandmother met Jon for the first time she was impressed by how tall he was and how kind he seemed. "I like that one," she told me. "You should make him a pie."
My chicken pot pies differ from my Grandma's. A tea-total Methodist, she never uses wine or vermouth to deglaze her pan. She wouldn't use cream either – she'd use a lot more butter. But the technique is the same. And since the advent of really good shop-bought puff pastry, she's used that to top her pies, and so, consequently do I.
This is a warming comfortingly cosy dinner for a cold winter's night; the best kind of hunkering down by the fire with carols on the radio food.
Chicken pot pie (serves 4 – 6 depending on the size of your pie pots)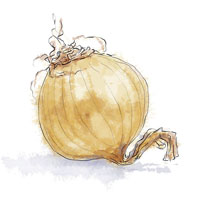 8 – 10 chicken thigh pieces (skinned and boned)
4 strips of bacon
2 carrots
1 stick of celery
2 onions
1 clove of garlic
½ cup flour
4 tbsp butter
½ cup of white wine
2 cups chicken stock
½ cup cream
1 tbsp chopped fresh tarragon
Salt and pepper
2 sheets of puff pastry – enough to cover 4 pie dishes – if your dishes are shallow and flat you may need more
Pre-heat the oven to 350, and take the pastry out of the freezer to thaw on the counter top
Dice the onion, celery, carrot and bacon then fry in a tbsp of oil until the onions begin to soften and the bacon starts to crisp up
Meanwhile, chop the chicken into bite sized chunks and toss with the flour and some salt and pepper
Add to the frying pan with the butter (tip the flour that's left not adhering to the chicken in too). Cook for a few minutes until the chicken starts to color slightly. (You're making a very casual roux here with the butter and flour that's going to thicken the sauce)
Grate in the clove of garlic (or mince finely) and cook for a minute
Tip in the wine and scrape up the brown bits from the bottom of the pan
Add the stock and let the mixture cook for a few minutes until beginning to thicken slightly
Add the cream and the tarragon then take off the heat
Cut out lids from the puff pastry by laying the pot on the pastry and drawing a circle about 1 inch bigger around it.  Use the leftovers to cut out 2cm thick long strips.
From here on in it's an assembly job; divide the mixture between the pie pots (about ¾ full)
Dibble some water around the dish rims then press the strips of pastry around them
Dibble the pastry with a little bit of water, and put the lids on top pressing down with the tines of a fork to seal
Poke three holes in the pie lid to let out steam, and season the lid with salt and pepper
Bake for 20 minutes
If you can make that you can make this:
Add frozen pearl onions and peas just before baking (run them under a hot tap for a minute before adding them to the mixture to defrost)
Switch up the herbs – parsley is the classic
Slice some fennel in with the onions and use pernod rather than white wine for a more anise taste
Use vermouth rather than wine for a more herbal taste (I keep vermouth in my kitchen for when I need a splash of booze but don't want to open a bottle of wine. I use Madeira in the same way for red wine)
Leave out the chicken, and then, just before putting the mixture into the pie dishes, add leftover chopped turkey from Christmas dinner
Add mushrooms to the pan when you add the chicken