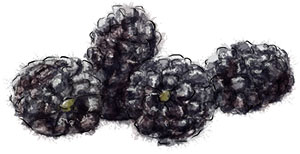 Winter is upon us. Not Christmas. Not New Year. But Winter, grinding away the days. There was more snow this week, and more predicted for next week. It's cold outside, baby, and all I want to do is curl up on the sofa in a blanket and watch the world go by.
One of the best things to eat when this kind of mood strikes has got to be a fruit crumble. Especially if you make enough for 8, then eat it a deux for dinner in its entirety, which is how we spent our frenetic Saturday night in the city that never sleeps.
When I was little my Mum would take my sister and I to the local University campus, to collect blackberries from the brambles that used the car-park walls as their trellis. We'd return home, triumphant foragers, purple-faced and black-fingered, to feast upon what were surely buckets and buckets of fruit. Enough to set up a blackberry business, most likely. It was always a shock when my Mum would tip our collection into the sink for washing and we'd discover that we had enough to fill half a tea cup.
This is how I discovered that frozen berries also make great crumbles (apart from strawberries which go chewy and sickly sweet. It's bad enough that one of us has tried this for the rest of us).
Making crumble isn't a precise science – the general proportions are usually the same, but the dry ingredients can vary wildly. I use handfuls of trail mix in place of some of the flour. I sometimes ditch the nuts altogether, especially if my Dad, who doesn't eat nuts, is likely to be eating. I've used crushed biscuits in place of the oats. The beauty of crumble is that this all works out. But here is a crumble blue print:
Blackberry and apple crumble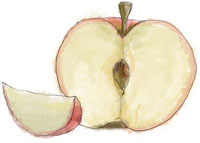 100g butter
100g sugar (soft brown for preference but don't get het up)
100g flour
75g porridge oats
25g chopped nuts
3 – 4 cups of fruit (2 lb) – Here I'm using 1 cup of blackberries and 2 cups of chopped, peeled, cored apples)
Sugar to taste (if the fruit is really sharp)
1 tbsp corn starch (cornflour)
Pre-heat the oven to 375
Cook the fruit with some sugar (to taste) until the juices start to run and the fruit starts to soften
Mix in the cornstarch and tip into an oven-proof bowl
In another bowl mix together the dry ingredients with the butter – you can use a mixer, but I usually do it with my fingers, rubbing the butter into the dry ingredients until they resemble rubble
Top the fruit with the rubble
Bake for 20 – 25 minutes
I sometimes make these in individual ramekins for parties, in which case, they take less time to cook – about 20 rather than 25 mins. Keep a bit of an eye on them.
Serve with cream.