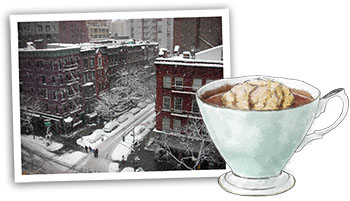 It's snowing. Evidently by morning Manhattan will be under a thick white blanket. Which might well mean a snow day if I didn't work from home already, and if Jon didn't live so close to his office that we can steal the wi-fi.
But the fact remains; there is snow, therefore there should be hot chocolate.
A few winters ago my sister and I put our names on the waiting list at Serendipity, then went to Bloomingdales for an hour, and traveled to the island and back on the tram, then waited around some more, and finally sat down at our table, which looked in the best possible way as though it had been designed by a 6 year old girl with a princess obsession. We ordered frozen hot chocolate. We were in heaven.
I love the contrast of hot chocolate with cold ice cream – the best sort of ice-cream float I think. And, never one for much moderation, I love the contrast of cold ice cream with hot chocolate, so that's what I'm making to go alongside – a frozen hot chocolate double whammy – frozen hot chocolate, with hot chocolate, frozen.
Frozen Hot Chocolate (per cup)
1 large scoop of ice cream (I like vanilla, Jon prefers chocolate)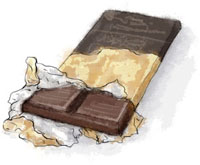 ½ bar of good quality dark chocolate
1 cup of milk
1 tsp brown sugar or honey
1 cinnamon stick
Scoop a large ball of ice cream onto a tray and place in the freezer to get super cold
Meanwhile, heat the milk, sugar and cinnamon in a saucepan until nearly boiling then take off the heat
Break up the chocolate and drop into the pan
Count to 30, then whisk the melted chocolate into the milk (returning to the heat if necessary)
Pour into a mug, then float the ice cream on top
Hot Chocolate, Frozen (serves 2)
This is a great way to serve ice cream for a crowd in BBQ season too – ball up in advance and freeze in individual cup cake cases. Here I use mini ones for added cuteness, but in the summer it was muffin cases all the way – and bonus – no washing up.
Ice cream – whatever flavor you like – about 1/4 of a tub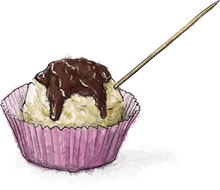 1 bar good quality chocolate
Mini cup cake cases (I do 3 – 4 a person)
Cocktail sticks
Scoop mini balls of ice cream into the mini cupcake cases (I use a melon baller) then skewer each one with a cocktail stick
Put back in the freezer to get super cold
Melt the chocolate until smooth (add a splash of booze if you like – I sometimes add Kahlua because I think the coffee makes the chocolate somehow taste more chocolaty)
Pour the hot melted chocolate over the cold ice cream or pour the chocolate into a small ramekin and dip the ice cream balls into it like a fondue