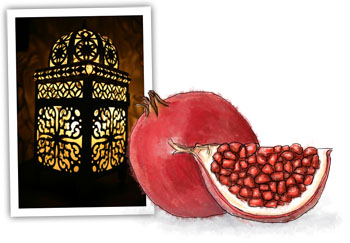 "It may well have been the most depressing day of my entire life," said the woman to her friend sitting next to me while water bubbled around our feet and manicurists took up their pumice stones and files with sadomasochistic glints in their eyes.
"I told everyone at work that I was going on this date with this guy I'd met. I had to tell them. I got changed at the office. And then just as I was about to leave he texted to say that he was sick and couldn't make it."
"You think it was for real?"
"I don't know. This is New York. Anything could happen. So for now, benefit of the doubt, I'm seeing him next week. But I couldn't go home because Gemma was having dinner with her boyfriend and I'd promised she could have the apartment to herself. I couldn't go to the gym because my kit was at home, so I was basically stuck.
"So I went out to this bar near the office and had a salad and a beer and read Marie Claire, and waited it out. Then, as I was leaving I realized half the office was at a table at the front by the door eating burgers. I seriously thought about hiding, but they'd already seen me. It was a nightmare. Worse than the time I had pink panties stuck in the hood of my fleece when I went to that yoga class. I went straight to Trader Joes and bought a pound of chocolate."
"OMG"
"I know. What did you do last night?"
"Took the Christmas decorations down."
"So basically gloom all round then."
"Basically."
I too took down the Christmas decorations last night – it was epiphany. The three wise men had reached the manger and heaven forbid the Christmas decorations should still be up the next day. (This seems a very peculiar rule, but that's by the by.)
So to dispel the gloom all round, I hosted an epiphany party featuring my all time favorite dinner, my go to dinner for impressing my boss, for romancing my husband, for entertaining my friends – a feast for Arabian Nights.
Tagine (stew by any other name) is a make-ahead special, cous cous is the work of moments, looks beyond beautiful adorned with pomegranate seeds, can be eaten cold and thus made in advance, and the green salad is frankly a bag of salad with oranges slices into it – nothing challenging there. But this dinner is more than the sum of its parts. It's beautiful, it makes for super easy entertaining, but I also believe it to be one of the most romantic dinners in the world.
Think Arabian Nights. Think rose petals, and golden tea glasses, sweet oranges and fresh lemons, salty olives, green pistachios and blushing jewel-like pomegranates.
Sold.

Moroccan Chicken Tagine with Lemons, Cous Cous with Pomegranates and Green Salad with Oranges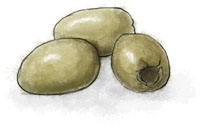 I like to start my Arabian Nights dinner with a platter of nibbles that I buy from the supermarket – flatbreads, olives, stuffed vine leaves, little silver bowls of pistachios and almonds, humus that I jazz up by adding a bit of Greek yoghurt and a squeeze of lemon, some tabouleh.
I sometimes make Mayan Chocolate Pots for dessert – I add a pinch of cinnamon to bring the spices back from full on Aztec. But a bowl of black grapes, a plate of fresh figs, a dish of shop-bought rose macaroons or splinters of almond studded dark chocolate and cups of mint tea all hit the right note.
Part of the full on romance of this fragrant and beautiful dinner is the décor – I go for hordes of tea lights, I serve the wine in tea glasses, I make champagne cocktails with a splash of rose water, I scatter rose petals.

Moroccan Chicken Tagine with Lemons (serves 6)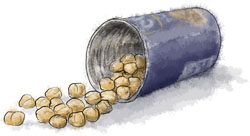 1 large white onion
2 cloves of garlic
1tsp cumin, 1tsp cinnamon, 1 tsp ginger, 1tsp turmeric
Zest and juice of a lemon
6 – 8 bone in skinned chicken portions – I use a leg thigh portion per person with a few extra for seconds
1 can of chick peas (garbanzo beans)
Chicken stock cube
Salt and pepper
Chop up the large onion into a dice. Fry in 1 tbsp of oil until soft and golden
Grate the garlic into the pan and add the spices. Cook for a minute until the spices are fragrant and the onion is coated. Season with 1 ts of salt and ½ tsp pepper
Add the chicken pieces, lentils and the stock cube
Squeeze in the lemon juice and cover the chicken with water (about 2 cups, depending on the size of your pan)
Cook for 2 hours at a simmer either on the stove top or in an oven
Add the can of chick peas (drained but not rinsed)
Leave the lid off and allow the liquid to reduce. If there's way too much liquid, take the chicken out and boil the sauce down fiercely)
Sprinkle chopped flat leaf parsley over to serve
Cous Cous with Pomegranate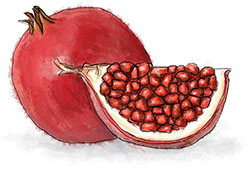 2 cups of cous cous
2 cups of hot chicken stock (from a box, though a cube is fine too)
1 pomegranate
Tip the cous cous into a bowl then pour over the boiling stock
Cover the bowl with saran wrap (cling film) or foil or a plate and a dish cloth to try to keep the steam in for five minutes
Remove the saran wrap and fork vigorously through the grains to fluff them up and get rid of any lumps.
Season with a good pinch of salt and a grinding of black pepper
De-seed the pomegranate over the cous cous
Stir in about half the seeds and leave the other half glistening on top.
Squeeze in any juice that's left
Green Salad with Oranges
Choose a peppery salad leaf like arugula. I usually use half arugula and half baby spinach. Mix things up by using Seville oranges, or even beautiful blood oranges.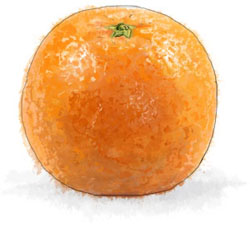 1 orange
½ red onion
4tsp olive oil
½ tsp mustard
pinch of salt and pepper
4 cups of salad leaves
½ cup flat leaf parsley
Cut the peel off the orange taking take to remove all the white pith, then slice into rounds
Slice the red onion into thin ½ moons and put into a jam jar or bowl
Pour in the olive oil, mustard, salt and pepper. Squeeze in the remains of the orange – you need about 3 tsps of juice
Shake or stir together and let the onion steep for a couple of minutes
Tip the leaves into a bowl, tear up the herbs into the leaves
Dress carefully – a tsp at a time – until the leaves begin to glisten
Scatter the oranges over the top and season with a little more salt