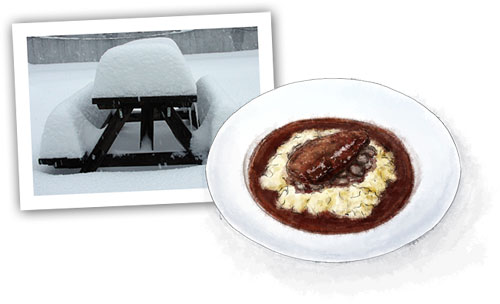 A combination of snow, work and being high as an escaped helium balloon on love has meant that Amazing Grace has been rather busy of late, so it was good to meet her for a 2 fingers up to the freezing weather lunch of cold sushi and hot gossip.
Here are some things I learned:
Being in love is expensive in terms of stockings. Woolford stockings, though undoubtedly of the highest quality, cost far too much to be ripped off in any way that might cause them damage. Therefore, for stockings to really fulfil their romantic potential, cheaper sources should be found.
Maybeline's bright scarlet Are You Ready lipstick is perfect and we should all run out and buy some because men, apparently, cannot resist kissing it straight off the instant it is applied.
Sharing a bubble bath in a typical New York tub is more romantic than it is practical.
Photo booths have not lost any of their charm.
Ordering in croissants is always a great idea.
Heart shaped post it notes are a great aid to creative expression.
Star Wars and Star Trek are emphatically not the same kind of thing. They are utterly different in every way.
Things were evidently going extremely well.
"Alex's best friend and his wife are coming to stay for the holiday weekend," Grace said, eating left over picked ginger dipped in soy sauce. "He's like a brother-friend, you know, one of those guys? They grew up together. So I've got to make a good impression."
"You're smart, you're sweet and you look like New York Barbie" I reminded her, "you'll make a good impression."
"But I promised I'd cook. I've made reservations on Friday and Saturday but on Sunday, I'm up. I need something sexy, but not too sexy. Something wintery and homey and delicious but also elegant and kinda fancy."
My kind of challenge.
After much debate, this is what we settled upon.
Coq au Vin (serves 4, but I wouldn't change the recipe for 2, I'd just look forward to leftovers, and for 6 I'd simply add more chicken)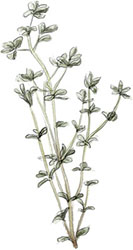 Coq au vin is some serious winter comfort food, but with an elegant edge. And it's sexy in a deep, velvety buttery way – the kind of French way that makes up for it being basically a brown stew.  This is a proper coq au vin. It takes a little time, though there's nothing tricky about it, it's takes just a little more love to finesse.
Instead of adding meat to wine and cooking for a long time, we're separating out the two processes. We're making a super flavorful liquid from the wine, which is then strained, and we're the cooking chicken this rich broth along with bacon, button mushroom and pearl onions.
The kitchen will smell like heaven, and people who get to eat the rich deeply flavored chicken will make little humming noises and offer to become your slave forever. Well, five times out of six perhaps.
1 bottle of full bodied red wine (it seems disingenuous not to pick something French here – usually I go with a cheap Burgundy)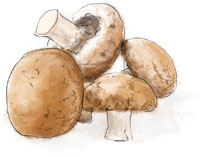 1 organic chicken cut into 6 and with the skin removed
4 sprigs of thyme
4 bay leaves
1 tbsp redcurrant jelly
1 onion studded with 2 cloves
1 carrot
2 ribs of celery
4 cloves of garlic
1 handful of diced pancetta (or bacon)
¾ cup button mushrooms
¾ cup pearl onions
2 tsp sugar
1 tbsp flour
1 tbsp butter
Olive oil
Salt and pepper
Dice the celery and carrot, bruise and peel the garlic, then put into a pan with the onion, the thyme, the bay leaves, the redcurrant jelly and the wine
Simmer until the wine is reduced by half, then strain the liquid through a fine sieve and reserve
Season the chicken pieces and dust with the flour
Melt the tbsp of butter in the pan with a dash of oil to stop it from burning. Cook the chicken pieces until the outsides are golden
If your pan is big enough tip in the pancetta, the onions, the mushrooms and the sugar, and let everything cook together for a few minutes to take on some color. (If your pan is smaller, take out the chicken then put back in once the bacon and vegetables are browning up)
Pour in the wine, shake the pan to let everything settle, then cook with the lid on, barely simmering, for an hour. (Note: if the wine doesn't cover the chicken, add a splash more from a new bottle, or add some chicken stock)
Taste the sauce – if it doesn't taste like the richest most delicious sauce of all time, chances are it needs to be reduced a bit. Take out the chicken and boil the liquid down. Taste again. If it tastes good but it's still too runny, mix 1 tbsp of cornstarch (cornflour in the UK) with 2 tbsp of cold water to form a paste. Pour into the sauce and let it boil. It will thicken everything up.
Serve with crunchy bread, or better still, buttery mashed potatoes to soak up the rich purple juices. And some simple steamed or boiled green beans alongside.
To follow? Something clean and fresh – a huge bunch of grapes, a beautiful cheese, some dried apricots and crunchy crackers, maybe some fresh celery, and a box of Bendicks bitter mints with coffee.