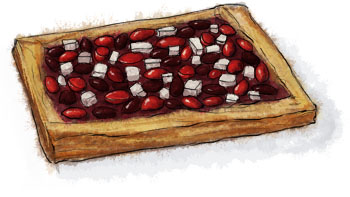 I'm through with winter. I know. There's months of it to go, and I should suck it up and make the best of it with hearty stews, warming soups, sticky puddings and other seasonal deliciousness, and I will, but for now, I'm sticking two fingers up to the weather and the cold.
I'm living, blissfully, in denial. (Which, being in Egypt, is lovely and warm)
Sara, conversely, is out of denial and into the real world with New Year zeal. Determined to be more pro-active about her (lack of) love life, she sent a much debated and line edited email to the man she accidentally picked up at the office Christmas party. His name was Sean. He worked on a different floor from her, and she hadn't seen him since he slept chastely on her sofa, made her French toast and left her his number before vanishing into the morning.
She wondered if he'd like to meet for a drink after work sometime.
A day later he emailed back to say that he would.
But here's the rub; A DAY later. A whole day?! Was he simply off line? But for a whole day – it's possible, but is it likely? Was he playing hard to get? Was he trying to look cool by deliberately not firing off his reply? Or did he really have to think about whether he wanted to or not? Did he sleep on it and wake up resolved? Which could mean that he's really sure he wants to meet up, or, it could mean that he doesn't want to meet up at all, but feels that he ought to – the time delay suggesting extreme reluctance.
These are the cold hard issues of Sara's real world, which we plan to discuss and decode tonight over dinner in my fantasy world of blue-skied warm-hearted summer, with the help of a bottle of chilled white wine.
Greek Salad Tart (serves 6 as a starter or 2 – 4 as dinner)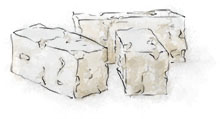 This tart is spread with a tapenade / ricotta mixture before being topped with tomatoes, feta and black olives. Tapenade is a black olive, anchovy, caper spread that can be bought in jars in most supermarkets. It can get a bit oily around the top though, and needs a good mix before using.
If you want to make your own tapenade, here's a blue print:
Tapenade
1 ½ cup olives (pitted) You can use a combination of green and black but I tend to go with kalamata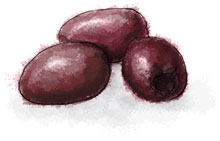 2 anchovy fillets
1 tbsp capers
1 clove garlic (peeled)
3 tbsp lemon juice
4 tbsp olive oil
Ground black pepper
Put everything into a processor and blitz to a thick paste.
Greek Salad Tart
1 sheet of defrosted puff pastry
2 cups of halved cherry tomatoes
¾ cup cubed / crumbled feta cheese
½ cup pitted halved kalamata olives
3-4 tbsp tapenade
3-4 tbsp ricotta (or cream cheese if that's what you have on hand)
2 cups arugula (rocket)
Olive oil
1 tsp lemon juice
Pepper
½ tsp oregano
Pre heat the oven to 450
Lay the pastry sheet onto some parchment and roll out to get rid of the creases. Score a border around the edge and prick the pastry in the middle with a fork.
Mix the tapenade with the rictotta, then spread the tapenade over the pastry (inside the border)
Scatter the tomatoes, the olives and the feta over the tart. Season with a grinding of fresh black pepper and ½ tsp oregano. Drizzle with a little olive oil
Put the tart onto a tray and bake for 20 – 25 mins. If your oven is a bit old and unreliable, like mine, turn the tart around half way through cooking in case one bit of oven is hotter than another and the tart cooks unevenly (i.e. one part raw, one part ash, as in my oven).
Once cooked, top with handfuls of rocket dressed with lemon juice and olive oil.
Serving suggestions:
Scatter toasted pine nuts on top
Turn a dinner into a feast by adding mezze – hot pitta breads, taramasalata, tzatziki, stuffed vine leaves, and any other treats the deli counter has to offer
If You Can Make That You Can Make This: