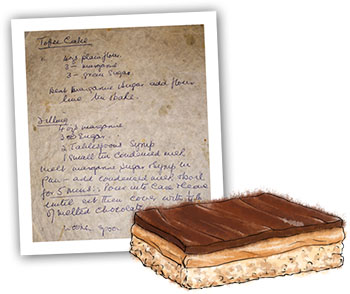 Millionaire's shortbread is what my Mother in law, and most of the rest of Scotland call it. Toffee cake is what my Mother in law's Mother in law called it (as you can see above). But by either name, for my husband, it's the quintessential home treat.
I skyped my Mother in law today to check the oven temperature in my recipe, and discovered that she was at that exact moment melting chocolate to finish a batch that she was sending to grandson Joseph to sustain him through his exams. It doesn't seem so long ago that we were the recipients of the same carefully wrapped care packages, to sustain us through our exams.
Millionaire's Shortbread is a great Scottish culinary tradition, of course, and I suppose I was put into a mind for baking it because it's Burns' Night on Tuesday.
Burns' Night is a celebration of the life and poetry of the poet Robert Burns, and a great excuse to dress up in a kilt, drink whisky and cavort about to Strip the Willow, should any excuse be needed. Traditionally, people eat haggis, but not before reciting a long ode about the general greatness of haggises, and getting fairly drunk.
Address to a Haggis
Fair fa' your honest, sonsie face,
Great chieftain o' the puddin-race!
Aboon them a' ye tak your place,
Painch, tripe, or thairm:
Weel are ye wordy of a grace
As lang's my arm.
(Robert Burns)
A haggis, for the uninitiated, is an animal that has two long legs and two short legs so that it is able to easily run around Scottish mountains. Or, it's a mixture of blood, oats and offal contained within a stomach. You decide.
Either way, haggis is a tradition that I find hard to get on board with, but Jon is Scottish, and here in New York, miles away from home, such traditions take on a more resonate importance. And so we celebrate Burns' Night, and we drink whisky, and we eat Millionaire's Shortbread instead.
Millionaire's Shortbread is a treat that takes a little bit of patience. It's made in three layers. First, a crumbly shortbread, then a sticky caramel, and finally, a smooth dark chocolate glaze. None of these layers is particularly taxing on the cook, and the gentle rhythm of the dish makes it especially satisfying – a good snowy afternoon in the kitchen sort of a dish.
Millionaire's Shortbread – Granny Hannah's recipe
The shortbread:
2 sticks of cold butter cut into cubes
2 cups flour
2/3 cup sugar
pinch of salt
A tin about the size of a brownie tin – though I make mine in an old pyrex pie dish
 
Preheat the oven to 320 (160 if you're cooking this in the UK in C)
Rub the butter and the flour together until they resemble sandy breadcrumbs, then rub in the sugar
Butter the tin, then press in the mixture (it should be about 1cm deep)
Prick it all over with a fork, then bake for half an hour until it is golden and firm
Toffee:
2 sticks of margarine/butter
2/3 cup of sugar
4 tbsp golden syrup
2 can of sweetened condensed milk (14oz each)
 
or (non Granny Hannah version):
2 tbsp butter
2 cans of sweetened condensed milk (14oz each)
 
Melt the butter, sugar and syrup in a pan
Add the condensed milk and bring to a boil
Allow the mixture to boil while you stir it for five minutes exactly. Both my Mother in law and her Mother in law are very emphatic on this point – and they're right – it's the perfect caramel consistency
Pour over shortbread and allow to cool
Chocolate: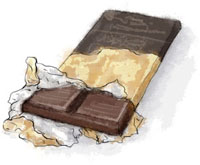 100g (or more) of 70% cocoa chocolate
 
Melt the chocolate (in a bowl over simmering water or in the microwave)
Pour it over the toffee layer and smooth with a spatula
Let the chocolate cool and harden before slicing and serving (about half an hour in the fridge)