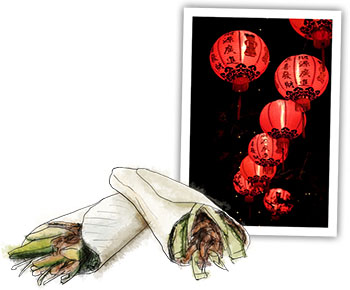 It's the Chinese New Year of the rabbit, and I won't lie to you; I was tempted to put bunny on the menu. But two things held me back; memories of my sisters' pet rabbit who once, heroically, peed on an ex-boyfriend of mine, and my extreme love of duck and reluctance to pass up an opportunity to eat it.
I love duck and pancakes. They are one of my favorite foods. Possibly my favorite food. I don't usually like to play ranking with my dinner, but they'd be a top contender.
For my birthday this year, for example, three different groups of friends, none of whom were free on the same night, took me out for my choice of three lots of birthday meal – whatever I wanted. It was fine by them. I had duck and pancakes twice, and duck in those slightly Styrofoam (but strangely totally delicious) buns once for variety.
I also ate cheesecake, and was taken to lunch at Bouley and put on ten pounds, but that's by the by.
The problem with duck and pancakes is that most people like it as an appetizer. Though can anything that follows really compare to the silky savory meat and sweet sauce, all wrapped up in the lightest of steamed pancakes? If I think I can get away with it, I eat it exclusively. Possibly "problem" is not the word, now I think about it.
The other issue is that there are never enough pancakes. It's just true. Again. I order more. It's not really an issue. But it is nice to make duck for myself, buy myself as many pancakes as I really want, and settle in for bliss for dinner at home.
This is an extremely boy-friendly supper. It really is. When I cooked this for my friend John the other week, he clearly couldn't believe his luck. I wasn't trying to make him eat vegetables. There was no healthy stir fry to follow, just as much duck as we could eat. "It's all good and no worthy bits" he said, as plum sauce dripped down his arm. I suspect there's more of this point of view about than people readily admit to.
It's also very little effort. Much has been made about hairdryer-ing the skin, of pumping it up with a bicycle pump or scalding it with boiling oil. But, following a tip from the beauteous Nigella Lawson, I don't bother. I pretend it's a slow cook chicken, and it works out fine. It might not be quite as crispy as the restaurant versions, though often they're sitting around in a steamy kitchen or hanging in a glass cabinet, and they soften up a bit too. The half hour hot blast helps turn the skin into parchment, and the long cooking ensures that the dark meat pulls softly off the bone. I use spices on the duck skin, and salt – the mixture comes from a Chinese-style pork recipe that I ripped out of a magazine (possibly the Sunday Times Style section) about ten years ago.
Duck pancakes are an off beat romantic meal – any finger food gets extra points in my opinion – and they start the New Year on a luxuriant culinary high note. Consider starting the meal with Pomelo Seabreezes, or lychee martinis and finish up with orange scented chocolate pots, or bowls of fresh lychees, tangerines and a bar of dark almond chocolate smashed into shards, and you have yourself a feast.
Roast duck and pancakes (serves 2)
1 whole duck – for two people you're looking for a small duck, a bit smaller than a chicken. Obviously for more people, get a bigger duck or roast 2. I either buy my ducks in China Town, or from www.culverduck.com. Their duckling is the perfect size for 2.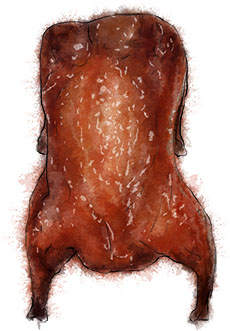 ½ a hot house cucumber
5 scallions (spring onions)
Jar of plum sauce or hosin sauce
As many packets of pancakes as you think you'll need (and a few extra for good measure)
1 tsp five spice powder
½ tsp salt
½ tsp cinnamon
Pre heat the oven to 325 (180 ish)
Pat the duck dry with paper towels and cut off the flap of fat at the neck
Rub the skin with a tsp of five spice powder, ½ a tsp of cinnamon and ½ a tsp salt
Put on a rack in a deep tray in the oven
Roast gently for 4 ½ hours
Drain some of the fat out of the tray (into a bowl to save for roast potatoes another day ideally)
Turn the oven up to 400 (220 ish) (removing the fat should stop major smoking out of the kitchen)
Put the duck back in and roast for another ½ hour to crisp up the skin a bit
Cut the cucumber into thin matchsticks, and slice up the scallions finely
Shred the duck with a couple of forks
Serve with plum sauce and a several packets of pancakes (which you can steam to warm, or microwave in the bag according to the instructions on the packet)