This cake can be baked in a loaf tin – in which case I sometimes serve it with toffee apple sauce or in slices spread with cinnamon butter, or with soft cheese. It's very much a tea time cake after a long walk in the cold, or after a strenuous heft round the supermarket. But the cup cake version is undeniably adorable – and can be topped with whipped cream and apple puree and maybe a dusting of cinnamon.
Spiced apple cupcakes

2/3 cup or 5 oz sugar – I use golden sugar, but white or light brown are both good – different, and good
2 1/2 cups or 8 – 10 oz sharp apples (peeled and cored weight)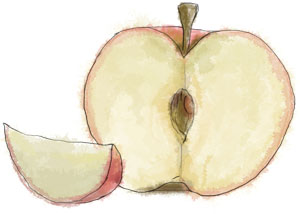 2 cups or 8 oz flour
1 tsp cinnamon
1/4 tsp nutmeg
1/4 tsp ginger
Pinch of salt
1 stick or 4oz butter
2 eggs
1 cup cream
½ cup unsweetened apple sauce
Pre heat the oven to 300
Tip the flour and spices into a bowl, then rub in the butter until the mixture resembles breadcrumbs (you can use a mixer, but this is the work of moments, and fingers save on washing up)
Peel and dice the apples then add to the flour mixture along with the sugar
Beat the eggs and mix in until the batter is smooth
Spoon the batter into cake cases (or into a lined, greased tin)
Bake for 1 ½ – 1 ¾ hours depending on the volume of your cupcake tin – I use a muffin tray – and the efficiency of your oven. When I use my parents' fan oven I find that 1.15 works fine. You want a golden crisp top and a soft interior. A loaf takes about 1 3/4 hours to bake
Whip the cream, fold in the apple sauce and top the cup cakes
If You Can Make That You Can Make This:
Swap out the apples for pears
Add a handful of golden sultanas to the mixture
Swap out the apples for plums (take out the ginger)
Add a handful of chopped nuts
Or toffee chips
This recipe originally appeared with a reaction against too much pumpkin and a very tasteful manicure.