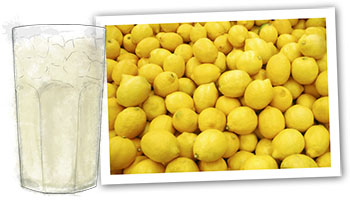 So I bought the lemons for pancake day, and in fairness, we did get through a couple of them, and there's nothing wrong with having a lemon or two around the house. But I am a marketer's dream – show me a special offer and I'll show you 25 lemons for 5 bucks. So lemons exist, and must be consumed.
And you know what they say; when life gives you lemons …
So in honor of spring, which surely, surely is just around the corner, I'm making lemonade.
Hard Lemonade (makes 4 servings)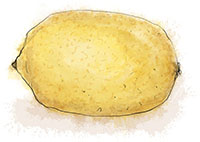 1 cup lemon juice (5 – 6 lemons)
3 cups water
1 cup ice
1 cup vodka
Handful of fresh mint leaves
Superfine sugar (optional)
Squeeze the lemon juice into a blender, add the water, vodka and ice and blend
Add the mint and pulse so that the drink is speckled with green
Taste the lemonade. Add superfine sugar to taste and blend again to mix (I like lemonade sour, so I usually leave out the sugar)
And to counter the sweetness of the lemons, serve with a plate of prosciutto ham, some focaccia sliced into small squares, and a dipping bowl of extra virgin olive oil