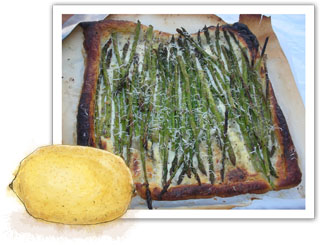 Asparagus is on special offer at the veg stand on our block, which is lucky for me, since it's one of my favorite vegetables. It wasn't around much when I was growing up in London – it was certainly a treat vegetable – so to find it in the same price bracket as your everyday green beans and carrots is pretty exciting. It's a treat, but it can be a regular one.
When you're buying asparagus you're looking for medium thickness stems, and tight green heads. Unless you're buying skinny asparagus, in which case, obviously, you want skinniness, and tight green heads (no "mush" or "squashed-ness"). Trim skinny asparagus with a knife, snap off the bottoms of the regular sized stuff– the woody part naturally snaps off in the right place, which is a pretty satisfying feeling – wash, then store in the fridge wrapped in a damp paper towel. Then eat.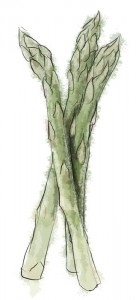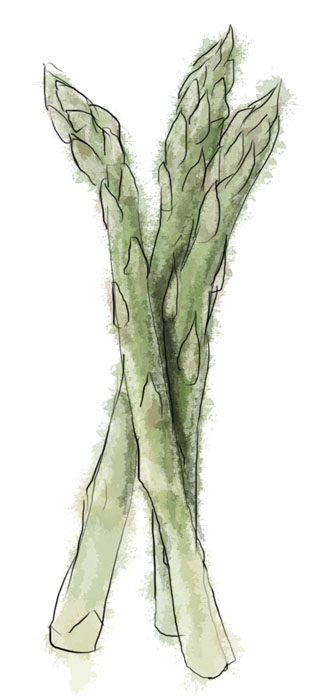 1 Shaved asparagus salad – shave the stems and refresh in ice water to make them curl up. Scatter over spinach leaves, shaved ricotta salata (or parmesan for a sharper taste), sunblush tomatoes and dress with a few drops of balsamic vinegar
2 Roasted asparagus – line a baking tray with foil and line up the asparagus. Pour over some olive oil and balsamic vinegar, season well, then roll the asparagus around until coated. Roast in a hot oven for 5 – 10 mins depending on the thickness of the stems
3 Butter lettuce and asparagus spring salad
4 Boiled egg with asparagus soldiers – Bring a pan of water to a simmer and add a large room temperature egg (if you keep eggs in the fridge take it out for about half an hour to bring it to room temp – if it's cold the timing will be off). Simmer for 4 mins for a soft yolk egg. Meanwhile, cook the asparagus spears in boiling salted water for a few minutes, watching and testing, until they are just cooked. Drain and season well. Dip the asparagus into the egg yolk.
5 Asparagus eggs en cocotte – Blanch 1 inch pieces of asparagus until al dente, then arrange in the bottom of the ramekins you're using for the eggs.
6 Asparagus with fresh herb pesto Make a pesto by adding a handful of pine nuts, grated parmesan, parsley and basil to a processor, drop in a bruised (peeled) garlic clove and blitz. While the processor is running pout olive oil down the feed tube until you have a smooth paste. Season to taste.  Line up the asparagus on a baking tray and rub with olive oil and salt. Drizzle over some of the pesto and roast in a hot oven for 5 – 10 mins, depending on the thickness of the stems. Serve with a fresh drizzle of the herb pesto and chunks of crusty bread
7 Asparagus and red snapper en papillotte with a white wine and herb butter sauce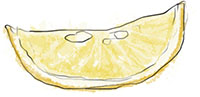 8 Asparagus lemon penne – cook the penne until 2 mins before it's supposed to be done according to the box. Add asparagus chopped into 1 inch sticks and cook for another minute. Drain (not too well, the water helps the sauce) and return to the pan. Add the juice of a lemon, 4 tbsp of cream and a handful of grated parmesan. Season well.
10 Asparagus lemon risotto. Make a risotto. Add thinly sliced asparagus (disks) when you stir in the butter and cheese at the end. The heat of the rice will cook the asparagus. Grate over lemon zest and squeeze in some lemon juice to freshen up the flavor. Scatter a generous amount of chopped mint and parsley on top.