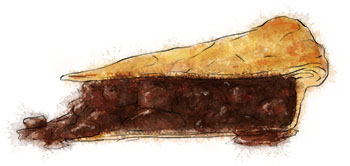 There is currently a commercial on the tv where an infatuated suitor notices how much his girlfriend dotes upon her parents' pet cat. The details of his dastardly plan no doubt forming in his mind he rushes home, turns his study into a special cat room complete with a cat tree and a cat hammock, then he acquires a fluffy white scrap of a kitten with big blue eyes, and ties a heart-shaped collar around its neck bearing the legend "will you marry us?" Of course the girlfriend is powerless to resist the allure of the adorable kitten and says yes.
A proper meat pie is the culinary equivalent of this.
A steak pie really is a proper treat. The kind of old fashioned food that makes for lasting relationships as well as, in the eating, short term gratification. To make someone a pie is to give them a good hour or so of your life. It's hard to separate pie from love, and why would we try?
My grandmother approved of my 6 foot something tall boyfriend, (now husband) the very first time she saw him. "I like that one," she told me. "Better make him a pie". Given that her 70 year marriage has been pretty much founded on the principle of regular pastry, it seemed like a good idea.
A meat pie is a two step process. First you have to make a stew, which, while not difficult in itself is time consuming (though to be fair, for most of the time it's just sitting around cooking and requires no effort from the cook). The second step is providing some kind of pastry to encase it. I'm not averse to puff pastry topped pies – indeed I make this chicken one that my Grandma is especially fond of often – but I'm happy to concede that they are not quite as full on a Pie as this pie is.
Stew (which is delicious in its own right) (serves 4 – I make this quantity for 2 and relish the leftovers)

1 lb braising steak cut into bite-sized chunks
1 onion
1 carrot
1 stick of celery (optional –adds flavor, but if you don't think you'll use the rest of the bunch it's a bit wasteful)
2 cups red wine (or Guinness, or wine and beef stock, or beef stock or chicken stock)
1 tbsp olive oil
1 tbsp flour
Salt and pepper
Cheesecloth / popsock filled with 1 bay leaf, 1 sprig of rosemary, 1 clove of peeled garlic)
Dice the onion, season well, and fry in the olive oil until soft and golden brown (about 5 mins)
Toss the meat in the flour to cover and fry for a few mins until starting to color (it helps if you don't poke at it but just let it sit and cook)
Slice the carrot and celery into quarters and add to the pan. Pour in the wine, and add the herbs in their little package (this is so that the rosemary needles don't escape and sit like bitter needles in the stew)
Cover the pan and simmer very gently for something in the region of 2 hours. If it makes life easier to put the meat in the oven, about 350 f 180 c should be about right. If the stew looks as though it's drying out add a splash more water.
Fish out the carrot and celery (delicious – cook's treats!)
To turn this into pie
9 inch pie dish (or something close)
8 oz flour
4 oz cold fat – I use half butter half lard, which gives a light crisp flaky crust. Butter tends to make a harder crust. Tip from my grandma.
1 tbsp ish of ice cold water
Pinch of salt
Sift the flour into a bowl with the salt, and cut up the cold butter and lard into a dice
Tip the fat into the flour and rub through your fingers until the mixture resembles sand. If the mixture becomes oily, chill in the fridge for 5 mins then carry on. (You can do this in a food processor, in which case blitz for about 1 minute.)
Add 1 tbsp of ice cold water and mix with a knife to bring the dough together. If the dough is still like sand add more water a tsp at a time until the dough forms a ball. (in the processor, add the water down the feed tube and pulse to bring the dough together, finishing with your hands)
Wrap the dough in plastic wrap (or in a ziplock bag) and rest in the fridge for at least half an hour, or up to three days
Pre heat the oven to 425 f (about 220c)
Cut the dough into two lumps – one a little larger than the other. Roll the larger piece out on a floured surface until it's about 14 inches round. Roll it up over the rolling pin, then into a 9 inch pie dish. It should come up over the sides. Trip the excess.
Now back to the stew – using a slotted spoon drain the meat into the pie (save the juices for gravy to pour over later)
Roll out the other pastry disk to about 12 inches round, wet your finger with cold water and dibble it around the pastry in the pie dish, then drape over the second pastry disk and press around the edge with the tines of a fork to seal the pie.
Cut a few holes in the top to let the steam out
Bake the pie for about 30 mins until the pastry is crisp. Serve with the heated up gravy
If You Can Make That You Can Make This
Make a deep filled apple pie by peeling, coring and chopping 2 cups of apples, dusting with corn flour , cinnamon and sugar, then baking in the pie crust as above
Or use apples and blackberries
Or pears, cinnamon and honey and a grating of orange zest
Or raspberries and cherries (and a generous dusting of corn starch to turn the juices into a thick sauce)
And if you can make a double crust pie like this, any of these stews should be easy
Or any of these tarts and pies