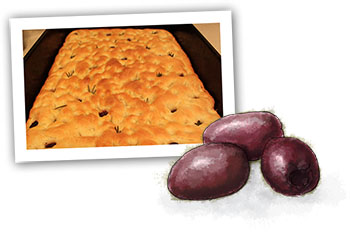 Some treats require preparation, and there's no point denying it; focaccia is one such. It's not especially tricky to make – and all the olive oil makes for a stable dough that is less subject to the foibles of regular bread – too crumbly, too hard, no crust, leaden texture etc etc. It's an easy first bread.
It just takes a little patience.
Patience has been the theme of the weekend for me – flying back into New York from London via a detailed investigation of my belongings and my body and the most painstaking passport and visa checks of all time. But I am home, the plants are mostly alive, and, jet lag aside, life is back to normal.
A weekend of patience too for friends Nick and Jen, who are getting married this summer after a romantic proposal in Paris, and therefore must attend Wedding Classes at their church of choice. They spent the whole of Saturday with other marrying couples listening to religious readings on the subject of fidelity, contemplating the seriousness of the contract they plan to enter into and playing fun quizzes about the nature of relationships and suchlike.
Jon and I experienced a similar thing before we got married. We met with the vicar and three other couples, were given a pep talk, then told to go away and fill in questionnaires about our relationship priorities, swap papers with our partners and discuss.
The questions were along the lines of:
How important is having children to you on a scale of 1 – 5?
How fiscally responsible would you say you were 1 – 5?
Complete this sentence; To me marriage is a contract with Holy God that lasts forever / a good excuse for a party / the only way I'd get my hands on your grandmother's 4 carat diamond – circle 1.
One of the couples never returned for lunch.
Focaccia with black olives, rosemary and lemon
Note – I use a liquid mixture of egg, olive oil, warm water and milk, which is the way I was taught to make it by the Italian lady who came into my cookery school for a day of bread making. I've never seen a good reason to mess with the basic recipe – the olive oil in particular keeps the bread really moist. That said, most focaccia recipes that I see in books (Jamie has a great looking one, and I hear good things about Nigel Slater) use warm water only.

75 ml olive oil
1 egg
150ml milk
Warm water
1 tsp sugar
4 tsp dried yeast
675g strong flour
2 tsp salt
For the topping
Olive oil
Sea salt and pepper
¼ cup fresh rosemary
½ cup pitted black olives
Zest of 1 lemon
Tip the olive oil milk and egg into a measuring jug and beat to combine.
Add enough warm water (hot tap water is fine) to make the liquid measurement up to 525 ml
Stir in the sugar
Sprinkle the yeast over the top and leave to stand in a warm place for ten mins, by which time the yeast should have created a froth on top of the liquid
Mix together the flour and the 2 tsp of salt, then pour the liquid over. Either using a mixer or your hands (I like to do it by hand), mix until a dough is former, then knead the dough until it is smooth and uncracked
Oil a mixing bowl and dump in the dough, covering with plastic wrap. Leave to rise in a warm place (out of draughts) until doubled in size – about an hour
While the dough is rising, oil a baking tray (I use a jelly roll tray) very generously with olive oil (the oil makes the bread taste delicious – I use about ¼ cup, maybe a bit more)
Knock down the dough, then roll out into the tray, cover and let rise again for 20 mins in a warm place
Pre-heat the oven to 220 F
Prong dimples in the dough with your fingers (lovely feeling!) and top with flavors of your choice, pressing them down into the holes – A good covering of olive oil (about ¼ cup), olives, little sprigs of rosemary and a grating of lemon zest – season well (especially with salt)
Bake for until golden brown. The bread should sound hollow if you tap the underside
If You Can Make That You Can Make This
Once you've got the hang of focaccia dough you can prong it with any combination of flavors that you think you'd enjoy. Some of my favorites:
Cherry tomatoes
Cherry tomatoes, mozzarella and basil
Goat cheese and black olives
Cooked Pancetta
Dried apricots and goat cheese
Black grapes (I love to make this to go with a white wine chicken stew)
Top the basic focaccia with roasted vegetables
Brush with garlic oil
Brush with garlic oil and top with mozzarella cheese slices. Broil to melt