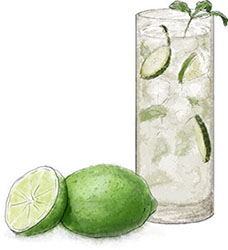 Back in New York and back on the balcony where there are now distinct winners, notably the peas and the herbs, and losers – yes, you, strawberries and asparagus and cucumbers. I have no idea why. What can I tell you? I'm just grateful not everything died. Props to Jon for keeping up with the watering.
So I staked the peas with some chopsticks from our collection, then sat back to enjoy the budding terracotta garden.
My friend Paul came over to pick through the details of the Royal Wedding and to see all the British special editions of the magazines that I brought back from my trip. "Duchess of Cambridge?" he huffed. "That's exactly what I imagined Cinderella would grow up to be. A Duchess. It's like Kate Middleton went into the church aged 28 and came out 50."
We sat as the sun set splashed the sky with vivid pink and sipped our cucumber Collinses – a happy re-discovery since I had the gin (I always have gin) and a lot of limes (for gin and tonics) and lots of cucumbers (courtesy of Trader Joes) because apparently everyone can grow cucumbers apart from me.
As part of my "I've been away for ages, I must get into my kitchen and be domestic and feel like I live here again" scurrying, I made fancy ice. There's sort of a recipe – and that's not even a blond joke – simply add cucumber or lemon pieces to the water in the tray, then freeze. Sometimes with lemon or lime ones, I squeeze a bit of juice in there too to give the ice cube extra flavor, but really that's all there is to it. My current favorite, especially good in sparkling water, is cucumber. Which is why I tried to grow them in pots on the balcony. But that's by the by.
And so there were cocktails. And there was spring all around us. And we hadn't even begun to talk about Princesses Beatrice and Eugenie yet. And all was right with the world.
Cucumber Collins (per glass)
1 inch chunk of cucumber
1 measure of gin
½ measure lime juice
Soda water to taste
Cucumber ice cubes (optional)
2 sprigs of mint
A few hours earlier – add cucumber slices to an ice cube tray, cover with water then freeze
Roughly dice the cucumber and add to a cocktail shaker along with the mint
Muddle with a muddler (or the end of a rolling pin, wooden spoon, whatever you have to hand)
Add the gin and the lime juice, shake and strain into a glass
Add the ice cubes and soda water to taste, garnish with a sprig of mint
Cucumber raita (serves 2 – 4)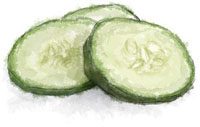 1 cup Greek yogurt
5 fresh mint leaves (large)
1 tbsp chopped chives
1 tbsp chopped dill
1 garlic clove
Juice of ½ a lemon
2 inch chunk of cucumber
Salt and pepper
Pita bread for serving
Peel and dice the cucumber into little chunks (about ½ cm)
Lay the mint leaves on top of each other in a stack. Roll them like a cigar then chop to make little ribbons
Mix the herbs, cucumber and lemon into the yogurt
Grate in the garlic
Stir and serve with hot pita breads (I like these best brushed with olive oil then grilled on the BBQ or a griddle pan until hot and crispy)
If You Can Make That You Can Make This
Turn the raita into part of a more substantial meal by adding dishes of olives, stuffed vine leaves, grilled peppers – things at the deli counter that take your fancy
Or use it as a sauce with some baked salmon (put the salmon fillets in an oven dish, add a splash of white wine, season, cover with foil then bake at 350 for about 15 mins)
Prepare a tray of crudités for dipping – carrot sticks, peppers, mushrooms, endive leaves, and bell peppers are all delicious
Buy spicy tortilla chips for dipping, or make your own by cutting soft tortilla wraps into triangles then tossing with olive oil and paprika. Lay them on a baking sheet and bake at 400 for a few minutes until crisp
Spread on ciabatta, add grilled chicken and arugula for a delicious sandwich