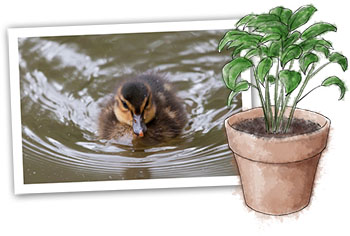 It really feels as though spring has finally, joyfully, arrived in New York.
Baby ducklings are waddling through the park, a bird has made its nest in the back of my friend Keith's air conditioner, which leaves him with something of a moral dilemma, and the seedlings that only a few weeks ago looked as fragile as Bambi are thrusting out of the pots on my balcony in a virile fashion.
All around: fertility in action. Nature is heating up, and, even in the midst of the city, the primal pull is hard for people to ignore.
Heading (in a meandering and slightly jet-lagged way) through the village to meet Jon for wine after work I fell in step with a young-ish hipster guy and his ditsy-looking girlfriend as they lingered to look in the windows of the various tattoo parlors along west 4th.
"You know something?" said the guy
"No!" said his girlfriend. "What?"
"I'm gonna get a tattoo. For you! I'm gonna get "I love you Baby" inside of a heart."
"That's so nice!"
"Yeah" he agreed.
"I love you," she smiled.
"I love you too. So I was thinking of getting "I love you Bridget," but then I thought, what if we break up? then I'd be in trouble. And I knew you wouldn't want that, right, coz you love me, right?"
"Um, well"
"So I thought "Baby". Much better idea."
It's a bit like asking someone who loves you to marry you … for tax reasons, or … to get a visa. It's the right idea but so utterly, utterly wrong. So close, but so far.
Pesto from a jar compared to pesto from a fresh basil leaf is the culinary equivalent.
It's fine. So far as it goes. It's convenient. It's useful to have around. But it isn't the real romantic deal.
This is.
The basil is growing! From seeds to proper plants. So now it's time to eat it.
Spaghetti with fresh basil pesto (serves 2 with pesto left over)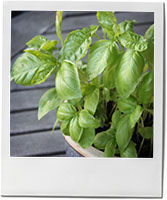 ½ pack of spaghetti
2 handfuls of fresh basil leaves
1 handful of pine nuts
1 handful of freshly grated parmesan
1 fat clove of garlic
Olive oil (mild, not extra virgin) – about 1 cup
Salt and pepper
Put a large pan of water on the heat, clamp a lid on and crank up the gas
Meanwhile, toast the pine nuts in a dry pan until they start to turn golden. Keep an eye on them because they can burn in a heartbeat
Tip the pine nuts into a processor along with the herbs and the cheese
Chop the garlic clove to make life easier for the processor, then add and blitz
Pour olive oil down the feed tube until you have a fairly thick paste
Season well with salt and pepper
Salt the now boiling pasta water and add the spaghetti. Cook for 1 minute less than the packet instructions so that it is still al dente
Drain the pasta but not too well – the water helps with the texture of the sauce
Add about 2 tablespoons of the pesto and stir well to combine – you may want to add a bit more, see how it looks
Season with freshly ground black pepper and serve (possibly with a tomato salad on the side and some focaccia bread)
Freeze the leftover pesto for another (happy) day (I freeze it in an ice cube tray – three cubes make pasta for two people)
If You Can Make That You Can Make This
Drizzle the pesto over sliced beef tomatoes
Or over fresh mozzarella slices
Or over mozzarella and beef tomato slices
Or over steamed asparagus, with a little lemon zest grated over the top
Spread it on toasted slices of French bread, top with goat cheese and grill
Pour a few tablespoons of white wine in a baking dish, add salmon fillets, dab with pesto, cover with foil and bake for 15 mins at 350f
Add a splash of lemon juice and use as a sauce for hot lamb chops
Spread on a ready bough puff pastry sheet, top with cherry tomatoes and bake for a tomato tart
Or add a tablespoon to either of these potato salad recipes
Toss with cooked cooled orzo, baby mozzarella balls and cherry tomatoes for a fabulous picnic salad
Spread on ciabatta, top with grilled chicken and tomatoes for a delicious sandwich