Something that Never Happens totally Happened this weekend.
People have been talking about 900 Degrees, (the new pizza restaurant to hit the Village) all last week, and that led me to assume that it was open. So Jon and I turned up on Saturday brunch time ready for our margherita fix.
The ladders outside were the first clue. And the fact that the sign was hanging half off the wall. All was dark inside, but the door was ajar. I nudged Jon towards it; "Go and ask them if they're open."
"They're obviously not open" Jon hissed back. "There's a guy messing around with wires in the ceiling. That's not an Open thing."
At which point Bruno noticed us dithering around the door and greeted us like long lost friends.
"Hello, I'm Bruno, welcome to our restaurant. I'm so sorry we're not open for lunch today. Our Grand Opening is on Monday, but you must come back on Sunday, my treat, we're making dinner for some friends and family to test out the service. You must come, I insist. On me. My treat. Come for dinner!"
See. That Never Happens and it Happened.
Cut to Sunday night; dressed in our moderate to best glad rags we headed back out to 900 Degrees.
"He won't remember asking us" I fretted. "We'll walk in and he'll look at us like we're aliens, and it'll be embarrassing."
"So what?" Jon countered. "Either way, it's an adventure." Nothing would come between him and the chance of free pizza.
"Kate! Jon!" beamed Bruno, as he ushered us to a table. "I'm so happy to see you. We have a table for you here – enjoy your meal with us tonight!"
So we did. It turns out that 900 degrees, far from being an arbitrary number, is in fact the temperature of the pizza oven. And 900 Degrees has 2 different pizza ovens, creating different kinds of pizza specific to different regions of Italy. This is the kind of thing that I like. Bruno brought Jonathan a meatball. This is the kind of thing that he likes.
"Order whatever you want" Bruno told us (full disclosure: filling up our wine glasses), "But the Margherita is the best thing. You gotta try it. We de-seed our own fresh tomatoes to make the sauce and it cooks in 90 seconds so the integrity of the ingredients is preserved." So we ate the Margherita, and it was delicious. The website isn't working yet, but you can find it at 7th on the corner of Bedford and when the website does work it will be www.900ny.com You should totally check it out if you're in the village sometime.
But if you're not?
Now, I like to make pizza, but it's a hard act to follow. Suddenly my oven's 500 degrees seem a touch inadequate. So until the feeling of inferiority wears off, I'm turning to pastry.
Margherita-inspired Puff Pastry Tart (with fresh pesto) (serves 6 as a starter, 4 as a light meal with a salad on the side, 2 for dinner)
If you've been making pesto (which I have been doing, ever since the balcony crop really started to take off in a big way) this is a great place to let it shine. If not, the simple flavors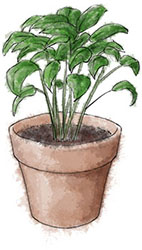 of fresh tomato and creamy mozzarella are perfection on their own – though with such simple ingredients, it's worth bearing in mind that the quality will have significant bearing on the taste.
1 sheet of puff pastry (I use Pepperidge Farm)
1 cup of heirloom tomatoes
1 ball of fresh mozzarella cheese
1 clove of garlic
Optional ¼ cup fresh pesto
Salt and pepper
Extra virgin olive oil
Defrost the puff pastry on the counter for half an hour until pliable but still cold (or, if you're organized, defrost overnight in the fridge)
Pre-heat the oven to 400f
Slice the tomatoes into quarters and poke out the seeds. Now chop them again (with a mezaluna if you have one) until they are confetti.
Place in a dish with a slug of olive oil (about 2 tablespoons) and a clove of bruised garlic (put it under the chopping board and drop the board down hard on it.
Leave to marinate for ten mins
Meanwhile, lay the pastry out on a piece of parchment, roll to get rid of the creases. Score a border around the edge and prick the middle all over with a fork
Dice up the mozarella
Scatter the tomatoes and mozarella onto the pastry base reserving about a quarter of the tomatoes for later
Drizzle with a little olive oil and season well
Put the tart onto a tray and into a pre-heated oven and let it cook for about 20 mins. If your oven is a bit old and unreliable, like mine, turn the tart around half way through cooking in case one bit of oven is hotter than another and the tart cooks unevenly (i.e. one part raw, one part ash, as in my oven)
Scatter over the remaining tomatoes, drizzle over the fresh pesto if using and serve
If You Can Make That You Can Make This
Let your pizza menu be your guide;
Add artichokes and black olives from the deli counter
Or sun-dried tomatoes
Or use this tomato sauce instead of fresh tomatoes
Or add speck or pama ham once the tart is cooked
Or try one of these tarts