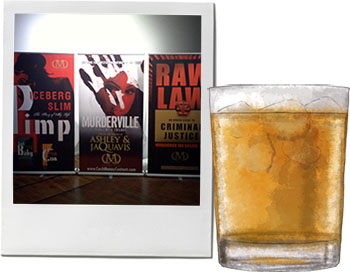 I've been to a marvelous party.
It was in honor of Cash Money Content, held at a glamorous yet still edgy Chelsea gallery, and I was there primarily to help my friend Molly hand out books at the book table. If you've never read a book with a title like Every Thug Needs A Lady or Payback is a Mutha, you know, you really should.
The room was packed with high flying agents, hot shot publishers, wheeler dealer tv executives, talented writers, famous rappers, Jon (husband – physicist) and me.
Luckily there were also cocktails.
"Jack Daniels and Ginger?" asked the barman as he poured it preemptively into a glass and handed it over. "That's the drink right now." And it was true. As ubiquitous as a designer handbag, a gold tooth grill or a diamond Jesus chain, almost everyone at the party was glugging back the JD Ginger.
"Is it possible to eat canapés with a grill?" wondered Sasha. "Do bits get stuck like braces?" We hovered by the door to the kitchen scooping up the food to make sure it didn't go to waste.
Meanwhile Jon, drink in hand, was recovering from taxi driver shame.
"It's this cool party for an urban book thing," he'd told the taxi driver. "That's got to be the place!" he gestured to the outside of a bar where models in gold lamé hot pants were working the door.
"Nah," the taxi driver brought him down to earth. "Your building's that one without the chicks, over there. Also, FYI, nobody says "cool" anymore man."
"What this party really needs," said Dylan dreamily, "is more models in gold lamé hot pants."
"I should have thought of that," said Molly.
Birdman arrived. And Busta Rhymes arrived. Then we all had another drink.
Back on the book table, trade was brisk and books were flying out the door with happy guests.  And, loosened by JD, my British accent was out in full force. "You really should read Murderville" I trilled, "It's absolutely super!"
It was late. The DJ went home, the bar packed up, we lugged boxes of bookmarks to the store room and wandered happily out into the muggy Chelsea evening.
JD and Ginger, just like famous rappers and writers drink (per glass)
In spite of it's new status as a party drink, a spiked ginger ale is the perfect BBQ cocktail. Spicy and tangy, with the soft smoke of JD. Consider making ice cubes with curls of ginger frozen into them (made with a vegetable peeler). They look so beautiful and give the drink extra spice as they melt.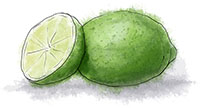 1 generous part JD
2 parts ginger ale*
Lots of ice
Lime wedge
Stir together over ice, then garnish with a lime wedge
Fancy making it with your own *homemade ginger ale?
This recipe comes from the genius that is Alton Brown:
1 1/2 oz grated ginger
6 oz sugar (I use superfine for easy dissolving)
7 1/2 cups of water
1/8 tsp dried active yeast
2 tbsp lemon juice
(or 1 cup of water, no yeast and 1 bottle of soda water = cheat version, totally unauthorized by Alton)
Heat the ginger, sugar and 1 cup of water in a pan until the sugar dissolves
Let this syrup steep for 1 hour
Drain through a sieve
Cheat version – add the lemon juice, top up with soda water and drink
Non-cheat version – strain the syrup into a bottle, add the rest of the water, lemon juice and yeast. Shake to combine and cap
Leave at room temp for 48 hours
Store in the fridge for up to 2 weeks, opening the cap every day to let out excess carbonation
Grilled Brie (serves 6 as an appetizer)
I'm canapéd out, and in the mood for comfort food. Nothing hits the spot like this super easy grilled whole cheese – it's the perfect appetizer for a memorial Day BBQ.
1 whole brie
1 tbsp vegetable oil
3 apples,
1 French loaf
An assortment of endive leaves, radishes, carrots etc for dipping
Heat up the grill (or a griddle pan)
Peel the label off the brie then brush the skin with vegetable oil
Grill the cheese on each side for 2 mins so there are black lines on the skin and the middle is gooey and soft
Eat with slices of grilled bread, apple wedges and endive leaves