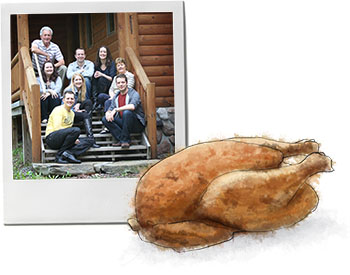 Last weekend we had a redo of the weekend that never was, where a group of New Yorkers drove 3 hours into the countryside to hang out for the weekend in a rented house, only to be thwarted by sheet ice, and forced to turn back at the bottom of the drive way.
Now the owner of the house was so mortified when she was told of this epic adventure that she refunded the money that John's parents had coughed up for his 30th birthday party, and offered him a free weekend in the spring. Pretty classy. This was that free weekend.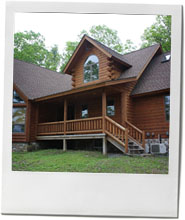 The cast had changed a little. For example, Jasen was in Paris eating macaroons, no doubt flirting with handsome Frenchmen and making us jealous on Facebook and Kim was deep in wedding preparations. But John's parents were visiting from Ireland, so they came along too. We hopped into our rental cars drove off the edge of Google maps, turned right at the cemetery, left into the woods, made it up the drive and into the house, all gorgeous wood and a kitchen the size of my apartment.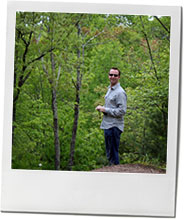 "This is perfect!" said John as he stood, hands on hips on the deck looking out into the trees that climbed up the steep sides of a mountain as far as the eye could see. A raccoon bumbled around a log, small rodents chased each other up and down a rock. "We Have to go hiking!"
"Hmmm" people muttered with a distinct lack of raw enthusiasm. "Hiking. Sounds great. Awesome. Yeah. Totally. Hiking. Shall we go shopping in Woodstock first?"
"I've been looking at the trails" said John as we sat in the sun with our shopping bags and ice-creams watching people in tie dye wandering up and down the main street. "There are some pretty close by, so we can go hiking this afternoon!"
"Great." We said. "Let's do that. Hiking this afternoon. Wonderful."
"Did anyone actually bring insect spray?" I muttered. "There are mosquitoes out there. Not that that would spoil the fun of hiking at all, I mean I think we should still do it -"
"I don't mean to be a downer," said Jess, "and obviously I want to go hiking a lot, but I'm a bit worried it's going to rain."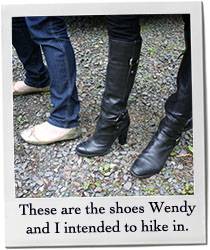 We looked at the looming clouds speculatively.
"How long is the hike?" wondered Wendy. "I mean, we'd have to be hiking at 2, 2.30 at the latest to make sure it's not dark"
"Maybe it would be better to get up in the morning and go straight to the trail," suggested Jon.
Alon agreed. "Maybe we should just go for a quick run today!"
"Well I'm not hiking or running anywhere," said John's Mum firmly. "I'm going back to the house and having a Jacuzzi."
And that was that.
I made roast chicken for dinner. We played pictionary and drank lots of wine. And slept in until noon.
It was a perfect weekend
Wilderness Roast Chicken (1 reckon 1 chicken serves about 4 people, 6 with lots of extra potatoes)
One thing I learned from this weekend is how much oven temperatures vary. In my oven at home a chicken in done in an hour, an hour and 15 for a really fat one. This oven, which looked as though it belonged in a cookery show, took 2 hours. My advice? Roast a chicken and take notes so that you know what works for your oven. And if you're cooking for a crowd in a country cabin? Pour more wine and gin and tonics and don't sweat the delay.
1 chicken (buy it ready to roast, life's too short to de-giblet a chicken)
1 large onion or a few small ones
1 large lemon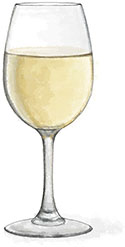 3 cloves of garlic
1 cup dry white wine
1 tbsp olive oil
1 tbsp room temperature butter
1 tbsp parsley
Salt and pepper
Take the chicken out of the fridge and let it come to room temp
Pre heat the oven to 400F
Peel and quarter the onions, then cut the quarters in half again and lay them in the middle of a roasting tin
Rinse the chicken (inside the cavity too) then pat the skin dry with a paper towel
Chop the lemon into quarters and stuff inside the chicken along with the garlic
Poke a finger under the breast skin to make a pocket, being careful not to tear the skin. Mix the butter with the parsley and push it into this pocket
Lay the chicken on the onions – they act as a natural trivet keeping the chicken out of the liquid
Rub the skin all over with olive oil
Roast for an hour or so, depending on the size of the chicken. Start checking the temp after ¾ of an hour, but expect it to take an hour, an hour and a quarter. It must be 180 in the thigh and the juices should run clear
Let the chicken rest for 10 minutes then serve with the gravy that's in the tin
I served this with a green a salad and some boiled buttered new potatoes.
We ate brownies and ice cream for dessert.
If You Can Make That You Can Make This:
This chicken is delicious served with any of these sides: