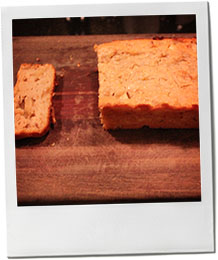 The long weekend is approaching, and that might mean picnicking in Central Park (my plan) or adventuring out of the city for a weekend of country-side fun (my plan last weekend).
After a long drive out of the city, and, for example after scaling the 30 degree incline of a drive covered in loose gravel with a drop through a forest into a pond 100 feet below on either side, while coyotes howl and monstrous raccoons menace somewhere out there in the darkness, it's good to know that there will be a slice of cake in the near future.
This spiced apple cake is just the thing and I am prepared to vouch for it from hard won experience.
Bake it, leave it in the tin for easy transporting until you want to cut and serve it, make it ahead of time and freeze it if it makes life easier – either way, you have a delicious moist cake to hand that's perfect as desert with some ice cream or pouring cream, or perfect with a mid afternoon cup of coffee.
Spiced Apple Loaf Cake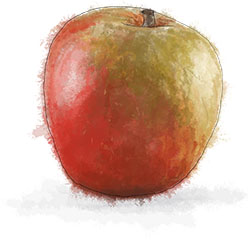 1 cup of grated apple (about 4 apples)
1 extra apple
1 ¼ cup flour
¾ cup sugar
1 tsp baking powder
Pinch of salt
1 tsp cinnamon
½ tsp ginger
¼ tsp nutmeg
2 large eggs
½ cup vegetable oil
½ cup plain yogurt
Oil or butter for greasing the cake tin
Pre-heat the oven to 350f
Grate 4 of the apples (I leave the peel on) and squeeze as much liquid out as you can. You should have enough apple to fill 1 cup
Peel and dice the other apple into small chunks and add to the rest of the apple
Stir in the sugar and flour, the baking powder and the spices
In a separate bowl or jug mix the eggs, yoghurt and oil until smooth then add to the dry mix and stir to combine
Scrape into a greased cake tin (I use a loaf tin about 9 by 6 inches) and bake for 50 – 60 mins (you want to top to be slightly browned)
Cool for 30 mins in the pan before turning out
If You Can Make That You Can Make This