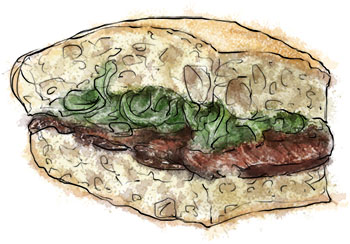 Even in a city like New York, populated by people who Pilate as enthusiastically as they experiment with juice cleanses and whey proteins, there are some foods that seem to defy resistance.
One of these is frosting. The other is steak.
And to generalize along gender lines, frosting is kryptonite to my girlfriends, while I never yet met a man who would say no to a steak sandwich.
It's a fact that my friend Adam was relying on last weekend when he invited the cute guy he met at the dog park while dog sitting his sisters' puggle for a post bike ride dinner.
It was a beautiful day, the sun was shining the birds were singing. They cycled companionably along together as the conversation moved naturally from the merits of puggles v spaniels to sports and on into political gossip, segueing to the merits of various tracks at http://www.bootymashup.com (which has reached something of a tipping point – May, just Wendy and Jess, June, everyone I talk to).
Back out on the roof Adam set up the grill and brandished his tongs and let those caveman instincts take over.
By all accounts it was a very successful date.
I've written before about my husband's love of steak. From special occasion steak (fillet) to anniversary steak (T-bone) and now to skirt steak, which has incredible flavor that more than makes up for slight chewiness, which anyway this post-marinading should take care of.
The post-marinade idea comes by way of Nigella Lawson's How To Eat, where she credits her American agent Ed Victor with introducing her to the idea. I'd never heard of the technique before, but for all I know it might be quite common in the US – I have certainly eaten steak cooked this way at a couple of BBQs here (most notabley one in New Jersey where one of the guests tripped over a deckchair and fell into a paddling pool.) The idea is; you cook the steak on a hot hot grill. Then you let it rest in a flavor bath to tenderize.
This is the kind of casual yet treaty food that an unofficial poll of my male friends rated very highly. It could be the delicious meat, the tangy dressing, the joy of not needing cutlery. Or it could all be in the name – who wouldn't want to eat a Skirt Sandwich on a date?
Skirt (Steak) Sandwich
1 pound to 1 ½ pounds of skirt steak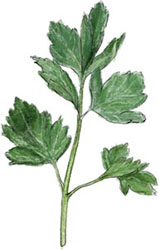 2 ciabatta rolls
2 handfuls of arugula
¼ cup mayonnaise
2 lemons
1/2 clove of garlic
1 handful basil
1 handful parsley
½ cup olive oil
2 tsp grain mustard
Salt and pepper
Get the grill going so that it's hot (or heat up a cast iron griddle pan)
Meanwhile (or in advance) make the herb mayo:
Tip the mayonnaise the juice of half a lemon, the parsley, basil the garlic (chop it up a bit first to help the blades) and 1 tsp of the mustard into a processor and blend until smooth. Set aside
And make the post-marinade: squeeze the juice of the remaining 1 ½ lemons into a dish, stir in the olive oil and 1 tsp of mustard. Set aside
By now the gril should be hot. Season the steak on both sides and brush with olive oil, then grill for 3 mins per side until charred (The steak should be pretty rare, and it's going to cook a bit more in the marinade, but if you like it more well done, cook it for longer)
Place the meat into the marinade and cover with a double layer of foil
Let the meat rest in the marinade for 5 – 10 minutes, turning half way so that each side gets soused.
Split the rolls and grill the cut side for a minute to lightly toast. Spread with the herb mayo
Slice the steak thinly and lay on top of the bread
Top with arugula
If You Can Make That You Can Make This
Change up the flavorings in the mayo – lime, cilantro and a pinch paprika
Or try 1 tbsp of mango chutney, lime and a good pinch of curry powder
Vary the toppings – tomatoes, regular lettuce, bunches of parsley or basil, thinly sliced red onions, fried onions …
Vary the bread – make fajitas with the steak, or pile into a soft sub and grate over cheese to go in a Phili direction, or go French with baguette, watercress and extra mustard in the mayo
Or try a seriously treat-y Fillet steak
Or this caveman T-bone anniversary steak – perfect for sharing
Or this fast and easy Steak with cream and lemon sauce
Or this Minute steak with Madeira