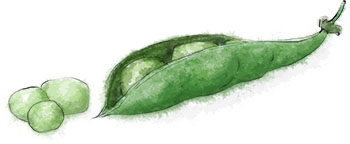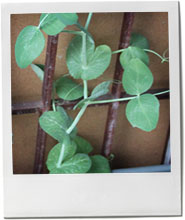 I had high hopes for the peas. They started out so strong. Thrusting their way out of the seedling planter on the window sill, then, newly transferred onto the balcony, twining seductively around their stakes (ok, chopsticks) and eventually caressing the climbing frame, and unfurling delicate white flowers. It was all going so well. There was even a pod.
Jon and I shared our first home-grown peas, three for him, three for me, bright and fresh – the very taste of green.
And then the peas died.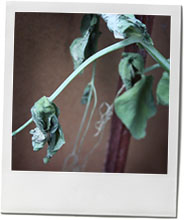 We do our watering in the evening, as instructed by Jon's parents, avid and highly successful gardeners. On this particular evening we also drank gin and tonics. The following tragedy may not be unrelated to this fact.
I watered the peas. Jon thought I'd forgotten to water them, so he watered them. I forgot that I had already watered them, and I didn't notice that Jon had also watered them, so I watered them again.
So the peas died, but our hopes of fresh pea risotto did not. Undaunted, I wandered over to Union Square Farmers Market, bought what turned out to be a scant cup full of fresh peas for a ruinous sum of money, and raced home to cook them at their fresh verdant best.
Risotto was always going to be my number 1 fresh pea recipe choice. Now this is a recipe that works with frozen peas – works perhaps is too weak a word. It sings with frozen peas. Nothing wrong with a frozen pettit pois. But to eat it with fresh peas is something else entirely.
Risotto with Fresh Peas
Ingredients (serves 2)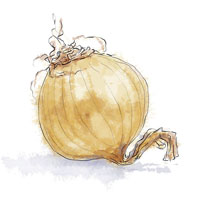 1 cup of rice
3 cups of chicken stock
3/4 cup of vermouth
1 medium onion
½ cup of 

Parmesan

cheese (grated)
1 cup of fresh peas
zest of 1/2 lemon
2 ½ tbsp butter
1 tbsp olive oil
Salt and pepper
Dice the onion finely and fry in 1tbsp of olive oil and ½ tbsp of butter on a low heat until it has softened. Season well.
Pour / re-hydrate the stock into a pan and keep warm
Once the onion is cooked, pour in the cup of rice and toss in the oil to coat
Add the glass of vermouth and bubble so that the alcohol burns off
Add the stock one ladle-ful at a time, stirring constantly. Keep the heat fairly gentle, you want the stock to seep into the rice, rather than boil away into thin air. (You'll be doing this for about 15 minutes, so it might be a good idea to put the radio on first)
Check the rice and keep stirring the risotto – you want it to have a bit of bite, bit not to taste in any way chalky. It might take 20 minutes. You may not need all the stock, or, conversely, you may need to keep going with water until the rice is cooked – the texture should be fairly liquid – somewhere between a fork and a spoon
Stir in the fresh peas, the Parmesan cheese and the butter, then take off the heat, cover and let rest for 2 minutes (this makes a big difference to the texture)
Serve with a grating of fresh lemon zest a drizzle of olive oil, and a grinding of black pepper (more parmesan is also good!)
If You Can Make That You Can Make This
Add a few drop of basil oil to the top of the finished risotto
Make this with frozen peas – use about 150 g. Cook half the pas in the stock until tender, then process until smooth. Add the puree along with the rest of the peas at the end of the cooking time
Add a dollup of goat cheese on top of the finished risotto
Add chunks of cooked lobster and a squeeze of lemon, and only add half the Parmesan
Serve alongside a salmon steak
Stir in some cooked asparagus tips with the peas
Or try one of these risottos