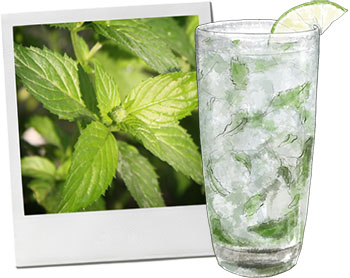 A few weeks ago Jon and I went out to Brooklyn to Shea and Raphael's apartment for dinner. It was a cause for excitement on several counts:
Shea, (@hungry_in_bk) is a great cook with her own internet tv show so dinner is always a treat. Recently she had been persuading and cajoling her Cuban Grandmother-in-law to give up some old family recipes. She planned to cook them for us that evening.
Shea and Raphael's apartment has a terrace.
James the dog lives there too. 
It was one of those perfect summer nights. Out on the roof with Manhattan spread across the horizon, mojito made with mint on the terrace in hand, a happy James galloping around after his toy, and the delicious aroma of roasting pork filling the air.
"We should make mojitos" enthused Jon. "The mint is growing like a weed. It would be good to use some of it up."  Jon is a big fan of the mojito. Strangely enough, he discovered his taste for them in a tropical themed bar in Warsaw, but that's by the by. Back at home, out on our balcony, he harvested mint leaves and set to with the muddler. We sat and watched the sun set. "It really makes carrying all that soil and planting the mint and doing all that watering worthwhile."
Mojitos
1 measure of lime juice
1 measure of white rum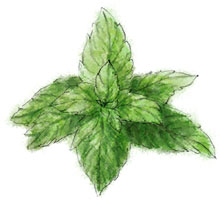 1 measure of soda water or a touch more depending on how long you like your drinks
1 tsp sugar (or sugar syrup, or guarapo (sugar cane syrup – available in Latin supermarkets), which I'm pretty sure is what Shea and Raphael used)
6-8 mint leaves
1 lime wedge
Crushed ice
Tip the sugar into a cocktail shaker then pour over the lime juice, stir until the sugar starts to dissolve
Add the rum and mint leaves and muddle with a muddler or the back of a spoon, so that the mint gets bruised and releases its oils
Add the ice and shake. Pour into a glass with more ice in it
Squeeze in a lime wedge and drop the lime into the cocktail
Top with with soda water
Pulled pork mini soft tacos – inspired by Shea and her Cuban Grandmother-in-law
This recipe is Cuban inspired, Shea's Cuban grandmother-in-law inspired, in fact, but it was not passed down to me and it is not a secret family recipe. I'd have to marry Raphael to get that, I expect, and even then, not until I'd learned to speak Spanish.
I'm suggesting this as an appetizer with drinks, in which case it will feed 6-8 people and they will be the most grateful, happiest people in the world.
As dinner it will feed 4. If you think you'll want more food, add another couple of pounds of pork, but keep the rest of the recipe more or less the same.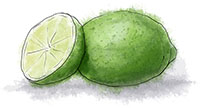 5lb pork shoulder
1 head of garlic
2 tsp salt
1 tsp oregano
Pinch of allspice
2 tsp cumin
3 bay leaves
3 dried red chilies
¼ cup orange juice
Packet of soft tortillas
Bunch of cilantro
Limes
Scallions
Smash the garlic under a heavy chopping board, peel and chop. Mix with the oregano, allspice, cumin, salt and pepper together then rub all over the pork
Put the bay leaves and chilies in the bottom of a cast iron pan (or a casserole dish or roasting pan – whatever you have), then put the pork on top, skin side down
Pour in a splash of orange juice – about ¼ cup – then clamp a lid on (if your lid doesn't have a great seal, use a layer of foil first then cover)
Cook on a low heat (325 f) for at least 2 hours, or, at a lower heat for longer (250 overnight would be great, which is, I think, what Shea did – poor James the dog apparently spent most of the night watching the oven and inhaling deeply and giving wistful sighs.)
Once the pork is cooked, shred it by pulling with 2 forks. If it won't shred, it's not been cooked long enough – stick it back in the oven.
To serve, use a cookie cutter to cut small disks out of the tortillas, then top with some pork and snipped cilantro and scallions. Let people squeeze limes over as they eat.
If You Can Make That You Can Make This
Make a pulled pork sandwich – just add crusty buns with mayo and mustard as well as the cilantro, scallions and limes
Or make a take on a traditional Cuban Christmas dinner by serving it with rice and beans
Take out the cumin in the marinade and add fennel seed to make a more Italianate pulled pork – serve on a sandwich with fried onions and red peppers
Top the pulled pork with a poached egg and serve over bruschetta as a brunch dish
Or make these easy slow cooked chicken tacos