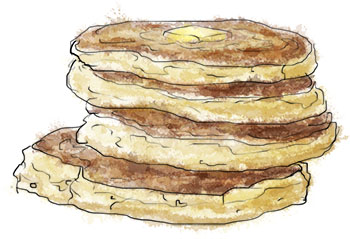 Here in New York, people take their brunch very seriously. And that usually means standing in line outside the latest greatest restaurant of the moment, sometimes for hours on end.
Sunday at Jane the crowd is 5 people deep and the hostess predicts an hour to an hour and a half wait for a table for two. "Put our names on the list" Jon tells her, then we slouch against the wall and divide up the New York Times into manageable chunks.  It could be worse, we reason. It could take well over two hours at Clinton Street Baking Company.
You can judge a neighborhood by its brunch. On the Upper West Side you'd better be in the line by 10.30 if you want to get food before noon. After several lengthy waits and

eventual surrenders outside Alice's Teacup we eventually worked out a system; Jon would go down and put our names on the list at 10.15. He would collect his buzzer and bring it back up to the apartment, where, on the windowsill, it still picked up a signal. We would read the papers with a coffee in bed until 11.30, shower and change and listen out for the buzz, which usually hit around twelve thirty.
Down in Soho, 11am, no lines, walk right in to Dos Caminos and bag a great table in the garden, but try that trick again at 2pm and you won't get your breakfast tacos until 4.
Standing around, with nothing in particular to do, it's not surprising that a lot of interesting communication occurs in lines outside 100 Acres or Cookshop or Pastis. Overheard last week;
"Asshole! OMG! What did you do?"
"What could I do? The only sensible thing. I hacked into his Facebook …"
And this gem;
"So my friend is dating this guy, and he said he was 35 but he turned out to be almost 50, then he said he had a job but he didn't and he didn't have an apartment either, he was just dog sitting for someone. So I Googled him and it turns out he used to be an ice skating instructor, and he got fired from that for stealing. It was in a local paper. So I told her and she was pretty devastated and thought about breaking up with him, but he was good in bed, so …"
Our names are called, we squeeze inside and take our seats, surrounded by mimosa-drinking groups of women, and couples playing footsie under the table. We take sips of our Bellini's and relax. "The pancakes look good" I say, meaningfully. This is a hint. I'm going to order Eggs Benedict, but if he has the pancakes maybe he'll give me a taste.  Jon rolls his eyes. "Ok. Pancakes. I love you," he says.
According to my friend Grace, who's been happily living in an alternate Romance universe since a conversation with a stranger over lunch on a park bench turned into love over dinner, "the definition of a good date is that you don't want it to end. Eating pancakes and drinking mimosas and going back to bed for the afternoon are all physical manifestations of this primal desire. i.e. a good sign."
And for those mornings when even going out for Brunch is too much reality, what could be lovelier than a stack of warm homemade pancakes with fresh peach compote?
Buttermilk Pancakes with Fresh Peach Compote (makes about 10 pancakes)
My buttermilk pancake is a variant of a Martha Stewart's classic, and the method is pretty much the same, only I cook my pancakes in oil rather than butter, which I always seem to burn before the  pancakes are done.
2 cups of flour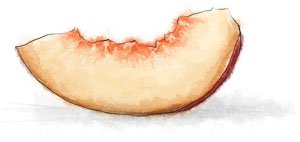 2 tsp baking powder
1 tsp baking soda
½ tsp salt
3 tbsp sugar
2 eggs
3 cups buttermilk
4 tbsp unsalted butter
Vegetable oil for cooking
Mix all the dry ingredients together
Melt the butter and add to the buttermilk and eggs. Whisk to combine
Add the wet ingredients to the dry and mix – the batter can be a bit lumpy, indeed, it should be a bit lumpy
Heat the griddle (or frying pan) until a drop of water fizzes and bounces off
Brush with vegetable oil, then spoon out the batter leaving a generous gap between each pancake
When the top of the pancake starts to bubble like lava, flip it over (about 2 mins) and cook the other side for (1 min)
Keep warm in the oven until you want to serve
For the Peach Compote
3 – 4 fresh peaches (this is a good recipe to use up peaches that are not quite at their ripe glorious best – the heat softens them up a lot)
½ cup light brown sugar
½ cup freshly squeezed orange juice
1 inch lemon peel (made with a vegetable peeler, avoiding the pith)
1 cinnamon stick
Peel the peaches by cutting a cross in the bottom of each one then immersing in boiling water for a moment. The skin should pare back easily
Slice the peaches, then scrape all the juice into a pan
Add the sugar, orange juice, lemon peel and cinnamon stick, then simmer until they become syrupy (about 10 – 15 mins)
Stir in the peaches and cook for a few minutes until they are tender
Take off the heat and let the peaches sit in the syrup for at least half an hour so that the flavors can develop
Serve over the pancakes
If you can make that you can make this:
Spoon some of the peach syrup into a glass and top up with champagne
Or serve over vanilla ice cream
Or over raspberry sorbet
Make chocolate pancakes – replace 1 tbsp of flour with 1 tbsp of coco powder
Or lemon pancakes – add the zest of half a lemon and a tsp of lemon juice to the batter
Or orange pancakes – add 1 tbsp of orange zest and 1 tsp of orange to the batter
Serve with bacon and maple syrup
Or with fresh berries and a dusting of icing sugar
Or with ricotta and a squeeze of lemon
Add a handful of raspberries into the batter
Or blueberries
Or try other brunch classics like this Nutella French Toast
Or this eggs en cocotte
Or these banana chocolate muffins
Where I like to go for Brunch in Manhattan:
Clinton Street Baking Company – amazing pancakes, long lines.
Jane – great all rounder, lovely atmosphere, and you can usually book for brunch, which is a bonus
Pastis – traditional French brunch – with amazing fries – sure, homefries are nice too, but these are just better.
Lansky's – free mimosas and banana bread, and my favorite cornbeef hash, served up in a traditional slightly upscale) diner atmosphere.
Isabella's – fancy brunch. Booking essential. It's where I take my parents for Brunch when they come to visit.
100 Acres – beautiful food in congenial surroundings, fresh seasonal twists on classic brunch dishes. I also love the people watching here.
Cookshop – delicious seasonal menu and great cocktails. I love to come here, then walk off the meal on the High Line afterwards.
Dos Caminos – love the patio, love the pink frozen drinks.
Please share other recommendations!