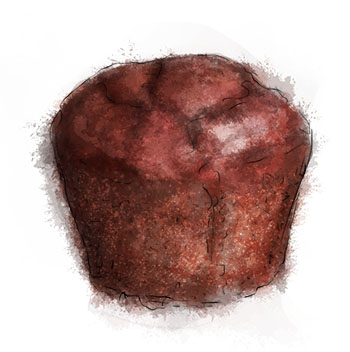 I just came home from Kim's lovely Bridal shower hosted by Hilary with panache, Niscoise salad, ice-cream bomb, chocolate brittle and homemade charcuterie.
It confirmed what I had been gradually piecing together; here in America, a Bridal Shower is emphatically not the same as a Hen Party.
The first Bridal Shower I ever went to was for my friend Alexa. It was hosted by her mom and aunt in the restaurant of an upscale hotel, and it was as dainty as all get up, with Caesar salads and champagne and games and the opening of shower gifts that were mostly wrapped in white paper and adorned with ribbons and bows.
I did not know about the shower gifts.
Mostly these were things like vases and wine glasses and picture frames and punch bowls and silver trays and candlesticks.
I had bought Alexa a pink plastic banana holder.
As the ribbons piled up (to be made into a bonnet by one of the bridesmaids – another unfamiliar custom), it became increasingly apparent that mine was not going to be an appropriate gift. I edged closer and closer to the gift table and eventually was able to give my package a surreptitious knock onto the floor off the back.
The gifts were opened, the champagne was drunk, the guests were given take home goodie bags (!) and in the melee nobody had noticed that I'd apparently turned up at this beautiful party empty handed. I was getting away with it. And then an eagle-eyed bridesmaid spoke up; "Everybody, wait a minute. We've got one last gift!" Everybody stopped to watch. Alexa opened it.
It looked a little bit like a giant penis. There's no point denying it.
I felt a little bit awkward.
So today I did not bring Kim a pink plastic banana holder.
Chocolate Banana Muffins (makes 12)
These chocolate muffins come from Nigella Lawson's beautiful book Feast, and have become a staple of my breakfast / brunches. Best of all, the freeze really well (in zip lock bags), and can be reheated from frozen in a warm oven – a gift that keeps on giving as the week goes on.
They also make fantastic trifle bases – slice or cube into the bottom of a glass dish, soak with a sprinkle of dark rum, top with sliced bananas, whipped cream and chocolate shavings.
I make mine in a silicone muffin tray. It's really easy to pop the muffins out. If you're using a regular tray either grease it with oil, or use liners.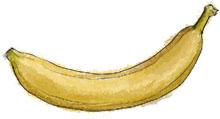 3 ripe bananas
125 ml vegetable oil
2 eggs
100g sugar (Nigella specifies soft light brown sugar but I usually have white in so that's what I use)
225g plain flour
3 tbsp cocoa powder (it has to be good quality)
1 tsp bicarbonate of soda (check the expiry date – old bicarb is basically pointless)
Pre-heat the oven to 390f (200c)
Mash the bananas and add the oil eggs and sugar
Mix the flour coccoa and bicarb then add to the banana mixture
Stir until combined (don't over mix and don't worry that it looks a bit lumpy)
Pour into a muffin tray and bake for 15 – 20 mins
If You Can Make That You Can Make This
Cut the muffins in half and make ice cream sandwiches with rum and raisin ice cream

Serve the warm muffins with Greek yogurt and honey

Make trifle

Spread with Nutella

Or make this

spiced apple cake

Or try any of these

cakes