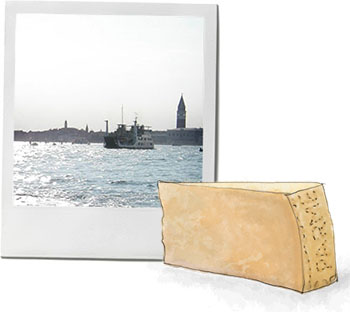 I was probably the worst tour guide in Venice, and that's saying something.
Firstly, I'd edited the tour together out of various guide books that I'd collated, and I really had no idea what I was talking about. Secondly, I didn't speak Italian worth a damn, so couldn't be much of a purveyor of local knowledge. And thirdly, this was my first visit to Venice, and I'd only been in the city for a fortnight. But what I did have in my bag was the confidence of being 18 and in love, and the gift of the gab.
"This is an art tour" I said as I held up my hand made sign. "Art and curios" and I kind of hoped my tourists would get that the tour itself was a work of performance art. Either way, they seemed pretty happy to come along.
We toured some slightly off the beaten sights – ever so slightly – like the Icon church, "legend has it that this icon is cursed" and the tiny sculpture workshop, "this workshop is haunted by no less than 3 ghosts" then into a few more churches, over a few bridges, ending up in a bar for Bellinis and plates of mortadella, where I told tall tales of the writers and artists who drank here – pretty much anyone who ever went on the Grand Tour ended up in my bar. "Nobody knows for certain, but it could well be the case that it was here, in this very bar that Henry James started to write …"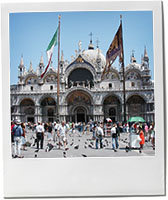 And then I would go home to the man I was in love with, to the basement bedsit with the high thin window that leaked if a boat went by too fast down the canal, and I was so obviously living in a story, it became harder and harder to remember, what was real and what was just Venice.
Risotto with radicchio, sultanas and pine nuts (serves 2)
Venetian foods, thanks to the historic connection to the spice trade, often via in a direction that you don't find anywhere else in Italy. Here, sultanas, which I soak in sweet Madeira, make a good counterfoil to the dark, bitter radicchio, and the pine nuts add resiny crunch.
Risotto in Venice is served "all'onda," literally, on the wave – so you're looking for a lose texture, somewhere between a fork and a spoon, that ripples when you shake the bowl.

1 cup of rice
3 cups of chicken stock
3/4 cup of white wine
1 medium onion
½ cup of Parmesan cheese (grated)
1 cup of shredded radicchio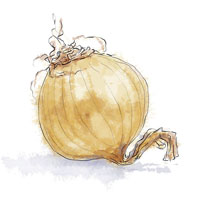 1/4 cup sultanas
1/4 cup pine nuts
1/4 cup Madeira
1/4 tsp cinnamon
3 tbsp butter
1 tbsp olive oil
Salt and pepper
 
Dice the onion finely and fry in 1tbsp of olive oil and ½ tbsp of butter on a low heat until it has softened. Season well.
Warm the stock in a pan, and soak the sultanas in the Madeira
Once the onion is cooked, pour in the cup of rice and toss in the oil to coat and toast, adding the 1/2 tsp of cinnamon.
Add the wine and bubble so that the alcohol burns off
Add the radicchio. As it cooks in the risotto, it will soften and the rice will take on a slightly pink hue
Add the stock one ladle-ful at a time, stirring constantly. Keep the heat fairly gentle, you want the stock to seep into the rice, rather than boil away into thin air. (You'll be doing this for about 15 minutes, so it might be a good idea to put the radio on first)
Check the rice and keep stirring the risotto – you want it to have a bit of bite, bit not to taste in any way chalky. It might take 20 minutes. You may not need all the stock, or, conversely, you may need to keep going with water until the rice is cooked
Squeeze out the sultanas, then stir in, along with the Parmesan cheese and the butter. Take off the heat, cover and let rest for 2 minutes (this makes a big difference to the texture)
In a dry pan, cook the pine nuts until you can start to smell them toasting. Watch them. They burn in a flash.
Serve the risotto with a scattering of pine nuts on top, and an extra grating of Parmesan and pepper