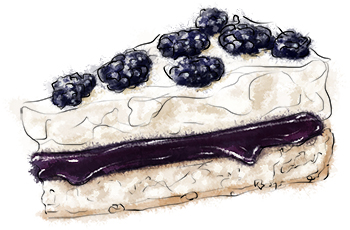 It was one of those lovely lazy Sundays pottering around the city post brunch that brought us to the fabulous Union Square Farmers Market, where laziness and pottering have to be checked at the metaphorical door.
It's a gentler ride mid week, but on a Saturday afternoon? It's pretty cut-throat.  Not here a gentle meander around stalls, smelling the herbs and imagining the dinner possibilities. Not here, a chance to linger and debate a choice – do we want peaches this week or nectarines? Hmm, I don't know. What do you think?  No. You've got to come with a plan. You've got to get your elbows out and your head in the game.
The place is teaming with New Yorkers pushing and shoving to snap up the ripest tomatoes, deciding that the "do not squeeze the peaches" sign obviously does not apply to them, debating militant veganism and banging into each other with unwieldy wicker baskets filled with cannon ball watermelons.
But it's also teaming with the most beautiful array of fresh vegetables, the ripest fruits, the most fragrant bunches of fresh flowers, the most unusual variety of herbs. In short, it's a genuine shopping paradise, but it's no place for sissies.
So, snapping out of my post eggs Benedict torpor I clicked into gear. What looked good? Everything. What looked best …? And walked away triumphant, victorious with punnets of caviar-glistening blackberries, to meet long suffering husband Jon who'd gone to get ice coffees and sit on a bench and watch a tense chess match.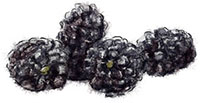 These blackberries were gorgeous and plump and shiny – nothing like the blackberries that my Mum would take my sister and I foraging for in the local University car park. We'd pluck the tiny, juicy fruit and come home with purple lips to assure my Dad that we had hundreds. Enough to open a blackberry shop. Probably a thousand. Which turned out in actual fact to be three each, which we'd eat with a sprinkling of sugar and ceremony after dinner.
The dessert that comes closest to recreating that sense of ceremony for me is a beautiful Pavlova. Utterly impressive, and as delicious to eat as it is to look at. And you'll probably have some jam left over to spread on some hot buttered toast. Blackberry bliss.
Fresh Blackberry Jam Pavolva
For the blackberry jam
This recipe is adapted from a Good Food Magazine article that I cut out and kept in the back of my book when I first went to cooking school and have used ever since. The butter tip is unusual and it really works – stirring in a little knob of butter at the end helps the scum dissolve back into the jam
500 g blackberries
500g sugar
50 ml water
Scant tbsp lemon juice
½ tsp butter
 
Put all the ingredients except for the sugar into a saucepan and bring to a simmer for 15 minutes until the fruit is soft
Turn the heat to low, then tip in the sugar and stir gently until it is dissolved
Turn up the heat and let the jam simmer for 10 minutes (don't stir it)
Take off the heat and skim off any scum, then stir in the butter. Let the fruit cool for about 15 minutes, then spoon into sterilized jars, or keep in a covered bowl in the fridge
For the Pavlova
For more detailed oven-related Pavlova notes see raspberry white chocolate pav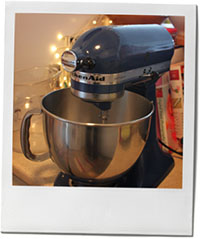 4 egg whites
8 oz caster sugar
A cut lemon
500 ml whipping / heavy cream
1 tsp sugar
½ tsp good vanilla extract
1 cup fresh blackberries
 
Pre heat the oven to 250F
Wash and dry the mixing bowl and whisk (an electric whisk is a good idea here), then wipe them with the cut side of a lemon to make sure there's no oil at all (or the eggs won't whisk up)
Tip the eggs into the mixing bowl and get whisking. If any egg yolk gets near the whites they won't mix up, so I break each one into a separate cup so if a bit of yolk catches on one I don't have to throw the other two out
Once the egg whites are whisked into stiff peaks (you should be able to turn the bowl upside down without them falling out – but don't over beat them or they'll fall again) add the sugar 1oz at a time with the beaters running until it's incorporated
Draw an 9inch (approx) circle on a piece of baking parchment, then turn it over (so the pencil line never touches the food) and dollup the meringue mixture onto it. Use a spatula to smooth the top and sides
Put into the oven and immediately turn down the heat to 225 / 235 ish. Leave the meringue for an hour (it should look pretty cooked at this point. If it doesn't feel hard to the touch, leave it in – and make notes – this is how you learn about your oven's quirks – it's amazing how much they vary.)
Once the meringue feels hard to the touch, turn the heat off and leave it in the oven to dry out – preferably overnight, but for at least a couple of hours
When you're ready to serve, invert the Pavlova base onto a plate – the bottom, which is slightly squidgy-ier melds with the cream, and makes the whole things extra delicious – also, it's flat
Whip the cream to stiff peaks with a tsp of sugar and ½ tsp vanilla essence (or a tsp of vanilla sugar)
Top the meringue with a generous layer of blackberry jam, then dollup the cream on top.
Finally, decorate with blackberries
If you can make that you can make this:
Make raspberry jam (the same method but leaving out the water) and top the pav with raspberries
Or abandon the jam, and top the meringue with cream and fresh sliced peaches
Or with strawberries, blueberries and raspberries
Or with passion fruit
Or buy the jam
Or buy individual meringues, buy good quality blackberry jam and proceed
Or try this Raspberry white chocolate pavlova
Or this Rhubarb fool pavlova
For more information about NY Farmers Markets check out www.grownyc.org (handy list of venues and opening times and lots of community info).