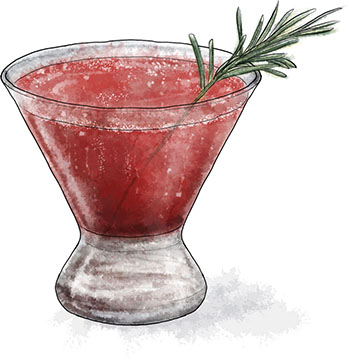 I remember my Mum and Dad serving melon slices as a starter at dinner parties when my sister and I were little.
The kind of party where my Mum would spritz on the Fendi perfume and ask us to pick which earring looked better. The kind of party where we would be allowed to stay up late to hand round wooden bowls of crisps and peanuts.
Sometimes, just melon. Sometimes, melon wrapped in prosciutto. Sometimes small melons, about the size of grapefruits, which would be cut in half and de-seeded, then the gap would be filled up with port.
My sister and I would sit on the stairs in our dressing gowns way past our bedtime, snaffling up leftover crisps and listening to the low hum of conversation punctuated by laughs and the clinking of cutlery. It was clear to us that the most Glamorous Thing in the Whole Wide World was happening in our dining room.
So I have a soft spot for a melon based appetizer. And since melons are at their absolute freshest best in late August, and on special offer at the Farmers market, the time to indulge is now.
Now clearly, there's nothing wrong with a slice of melon wrapped in sweet salty prosciutto. Nothing wrong at all. But it's good to take advantage of the bounty of the balcony, and brighten up the flavors with a punchy herbal dressing.
Melon, prosciutto and herb dressing (serves 4 – 6)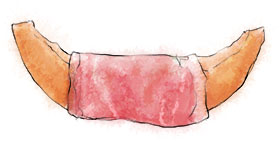 1 honeydew or cantelope melon
½ pound thinly sliced prosciutto
½ cup basil (a handful)
½ cup olive oil
¼ cup almonds
2 tbsp lemon juice
Salt and pepper
 
Peel, de-seed and slice the melon
Slice the ham slices in half lengthwise and wrap the melon in the ham
Blend the basil, lemon, oil and almonds in a processor and season well. Drizzle over the melon.
Blackberry Fizz (makes 4 – 6)
This fresh, sparkling cocktail is another Farmer's Market special. If you're in a making your own blackberry jam kind of mood – a good mood to be in, that, even if it only lasts half an hour will show benefits in stockpiled jam – you can use it here.
1 bottle of prosecco
7 rosemary sprigs
½ cup fresh blackberries
2 tbsp sugar (or use ¼ cup blackberry jam instead of the blackberries and sugar, and use a few fresh berries for garnish)
 
Muddle the blackberries, sugar and 1 rosemary sprig (or the jam and 1 rosemary sprig)
Divide between the glasses and top up with prosecco
Garnish with a fresh berry and a rosemary sprig stirrer