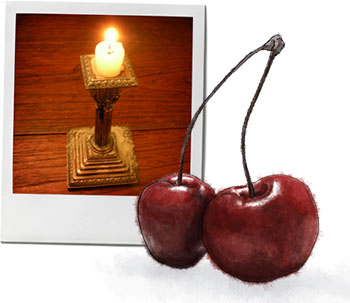 Sadly the Farmer's Market was not on in Union Square when we were evacuated from the office as the earthquake shook Manhattan – well, mildly vibrated Manhattan might be more like it. Otherwise we would have been mustering and being counted pretty much exactly where the apple cider and donut stall usually is.
Nevertheless, its proximity to my work makes it really easy for me to pop there at lunchtimes when it is on, and see what looks good today.
This dinner takes full advantage of Farmer's Market bounty, though of course, you don't need to live near a Farmers Market to find the ingredients. Cherries are really hitting their stride, and goat cheese is always in the shops. It's not exactly a ramps and dandelion leaves kind of a dish. Fresh Direct's got your back on this one. Or Morton Williams – because that's how we roll sometimes.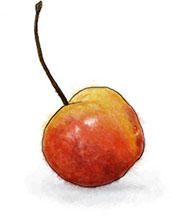 I've been compulsively buying cherries for a few weeks now, and they're getting better and better. This recipe only calls for 10, which gives you plenty leftover to eat ceremoniously out of a bowl of ice water while watching Project Runway.
But this dinner is no television bound chill out. It's fancy food. Not tricky food – don't let the idea of pounding out and stuffing a chicken breasts spook you – you can totally make this, and it will be awesome.  But it is fancy.
When you slice the chicken, you can see the lovely bright pop of cherry. It's a bit of a stunner.
So this is what you serve on an anniversary, or when you win a really nice bottle of Pinot in a church raffle (this actually happened to me – don't tell my teetotal Methodist Grandfather, who would not approve at all), or when you've had one of those messy weeks and hardly seen each other, and need to stop and reconnect and light candles and use napkins.
Chicken stuffed with cherries and goat cheese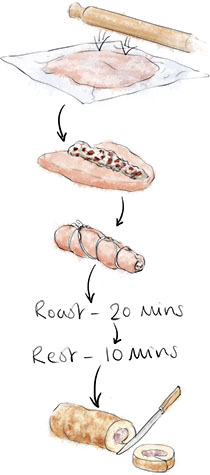 2 chicken breasts (skin off if you don't like skin, skin on if you do)
100g soft goat cheese
10 cherries
2 tbsp butter
¼ cup white wine
1 large onion
Salt and pepper
Pre heat the oven to 450f
Put one of the chicken breasts skin side (if on, or if off, that's the side you want) down in a zip lock bag. Pound with a meat hammer, a rolling pin, a heavy jar, until it's flat and about 1cm thick. Repeat with the other chicken breast
Stone and halve the cherries and mix into the goat cheese. Season well
Season the chicken, then spread some of the cheese mixture in a line down the middle of the pounded meat
Bring the sides of the chicken up to cover the filling, and secure by sticking in toothpicks, or by tying a few loops of string around – it should look like a plump roll – something close to how the original breast would look in fact.
Repeat with the other chicken breast
Slice the onion into rings and scatter in a roasting pan. Put the chicken, skin side up,  (rolled bit down) on the onions, then pour in the wine, trying not to wet the skin
Smear the skin (or the chicken) with butter and season well. Roast for 20 minutes, then cover with foil and let rest for 10 minutes, before slicing and serving with the pan juices
Mashed potatoes are great alongside, maybe with some boiled green beans.
Or bread and salad
If You Can Make That You Can Make This
Add chopped black olives and sundried tomatoes to the goat cheese and leave out the cherries
Or swap the cherries for roasted red pepper
Or try slices of Camembert and a tsp of cranberry sauce
Or Stilton, walnuts and diced apple
And if you can make this chicken, roasting a whole chicken will be a snap