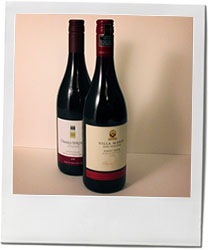 Back in London my sister Sarah is currently writing a thesis that hopefully will enable her to become a master of wine. Can I just say, what an awesome thing to almost be a master of. I can barely master our fancy coffee machine, for example. But I digress.
Since Sarah knows a lot more about wine than, well, practically everybody else, I turn to her for drinking advice. Also for advice after I've been drinking. That's probably a sister thing. Last year, she gave me some notes on that Thanksgiving classic, Beaujolais. This year …

"Hello.

For a change, try a New Zealand Pinot Noir with your turkey.
Pinot Noir is grown in most of the wine regions across New Zealand and tends to be a happy medium between the light and spicy burgundy and richer riper American (North and South) examples of the grape variety.
New Zealand's pinots generally have great fresh redcurrant, cherry and plum flavours, subtle spice and herbal or game-y flavours that develop over time. They are crisp and light, and work brilliantly with rich white meats like turkey.
The key regions to look out for are Central Otago, Martinborough and Hawkes Bay. Some lovely higher volume (ie more competitively priced) pinots also come from the Marlborough region.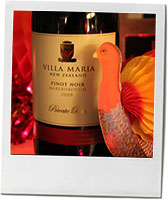 Look out for Martinborough Vineyards Pinots – really intense cherry and herb flavours that would be great with stuffing and cranberry sauce.
Felton Road and Craggy Range Pinots from Central Otago are also worth a glug – really vibrant wines, with a little sweeter red berry fruit style but with classic spice and herbal flavors too.
Mission Estate in Hawkes Bay produce a leathery black peppery Pinot typical to the gravel soils of the area. It's going to cut through all that sweet potato marshmallow craziness beautifully.
I can't believe you get a day off work to eat Turkey. Jealous. Happy Thanksgiving.
Sarah"