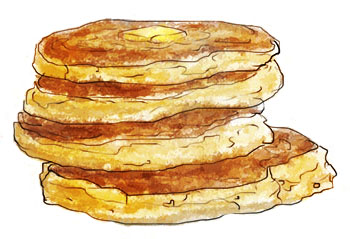 So here's the issue: the last thing anyone really wants after Thanksgiving is more dinner.
Leftovers? Sure, pass me the bread, and hand me that cranberry sauce, but not dinner. And then, inevitably, there comes a point where everybody reaches the end of their turkey tolerance. Maybe it's today. Maybe it's on Saturday. If not then, sure as Ninjas like sneaking, Sunday. But still. Dinner can feel like too much. Too much effort to make, and too much effort to eat.
And for moments like this, there are two solutions; order in some kind of spicy noodles, or eat breakfast for dinner.
Spice or simplicity. Either a hot red chicken curry, or a plate of buttery scrambled eggs on toast.
Or, for the sweet minded, there is literally nothing wrong with these warm spice-scented pillow-textured pancakes dipped into smoky apple maple compote. Nothing at all. There's even wholewheat flour in there to make everyone feel healthier in some odd philosophical way.
As a celebratory breakfast to set you up for a day of intense sales shopping, they're hard to beat. But as a cozy breakfast-for dinner curled up on the sofa watching Charlie Brown and the Great Pumpkin, they really come into their own – the very essence of gentle romance.

Pumpkin Spice Pancakes with Apple Maple Compote (makes 8 – 10 pancakes, which is 4 servings ish)
There are plenty of recipes in the world for pumpkin pancakes, many of them with maple apple compotes.
I base my compote on the method taught to me by my brunch-demon friend Doug, and the pancakes are based on Martha's, though I like to use some whole wheat flour for the texture. For the record, I also love 101 cookbooks version of the dish, which uses buttermilk in the pancakes, and my favorite place to have someone else cook them for me has got to be 100 Acres in Soho.
If you're a Brit and not able to get your hands on Pumpkin puree, I'd suggest making these buttermilk pancakes instead, switching out a couple of tbsp of white flour for whole wheat and adding the spices.
For the pancakes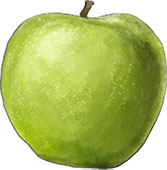 ¾ cup flour
½ cup whole wheat flour
2 tsp baking powder
1 cup milk
2 tbsp melted butter
1 egg
6 tbsp pumpkin puree (I use Whole Foods organic pumpkin puree in a can)
2 tsp pumpkin pie spice mix or
½ tsp cinnamon and ginger
And ¼ tsp (small pinch) nutmeg, ground cloves, salt
 
Whisk the egg, milk, pumpkin and melted butter in a jug
Pour onto the flour, baking powder, spices and salt. Mix to combine
Heat a skillet or frying pan. Add a little butter and oil (to stop the butter burning) and fry the pancakes, keeping them warm on a baking sheet in a low oven as you go
For the compote
3 apples (I use Granny Smith)
1 tsp cinnamon
1tbsp lemon juice
25g butter
½ cup maple syrup (maybe a bit less)
 
Core peel and slice the apples (though if I use Fuji apples or coxes, I leave the skin on)
Toss the sliced apples with the lemon juice and cinnamon, then fry in the butter for about two minutes per side until golden and slightly soft
Pour the maple syrup over the apples – enough to cover, go by eye, depending on the size of the apples
Pour the compote over the pancakes
If You Can Make That You Can Make This
Add a handful of chopped toasted pecans to the pancake batter
Or sultanas
Or a chopped diced apple
Switch out the pumpkin for apple sauce and use all wholewheat flour
Use pears instead of apples in the compote
Try this fresh peach compote
Try making buttermilk pancakes