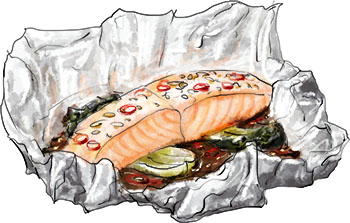 I can put my finger on the exact moment where Thanksgiving related food stopped being appealing: Friends Ken and Carrie invited us over for dinner and a game of cards, and I gave in to uncouth temptation and drank a tablespoon of the Asian dipping sauce that accompanied the pot stickers.
And still, my salt/sharp craving was not sated.
So this is what I made when I went over to Sara's apartment to see and indeed to watch her brand new Black Friday sales flat screen television. Â We settled in with noodles and Netflix as Poirot solved mysteries in 34 inch HD. "Who says things can't make you happy?" said Sara.
Quite a shot in the arm for Capitalism in a month where it's been about as popular as a hedgehog in a balloon factory.
Ginger Salmon with Bok Choi (serves 4)

4 salmon fillets
2 baby bok choi
3 inch lump of ginger
4 scallions (spring onions)
1 red chilli (remember, larger ones are milder)
4 tbsp soy sauce
2 tsp sesame oil
1 tsp brown sugar
2 tsp fish sauce
4 tsp sesame seeds
Handful of fresh mint leaves and or coriander leaves / lime wedges for serving
 
Preheat the oven to 350f
Lay four large squares of foil on a surface – you're baking the fish in foil parcels – or you could use a baking dish with a foil lid
Quarter the bok choi and lay two pieces on each foil square. Place the salmon on top
Snip or slice the onion into a jug, along with the chili (de-seed first if you don't like very hot food), then mix in the sesame oil, fish oil, sugar, soy and grate in the ginger ( I don't bother to peel it – but do if you prefer). Whisk to combine
Bunch up the foil around the salmon to make an open parcel, then pour the sauce over, dividing the onion, chili and ginger between the fillets. Sprinkle the sesame seeds on top
Bake for 15 mins for rarer fish and 20 for well done fish (depending on the thickness of the fillets)
Scatter torn mint and coriander leaves on top and serve with lime wedges
If You Can Make That You Can make This