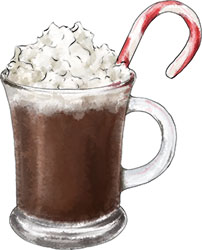 There's nothing like a carol concert to put people in a festive frame of mind. And this was a concert and a half; brass band, a harpist, an organ, a children's choir singing descants, percussionists playing jingle bells, the whole nine yards.
Jon, sitting up in the cheap seats in the gallery watched with camera in hand to record footage for the folks back home – yes you, Mum, if you're reading this, you're in for a carol concert extract video treat!  I know! You can thank me later!
Jean-Marie's son refused to come at all – "2 hours of singing? No Way!" Anne Marie's kids who had come were not faring so well. "They're the ones sleeping in the third row."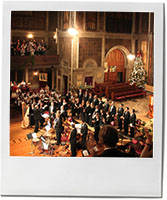 Half of the audience was wearing holiday sweaters or some kind of token red – cardigan, scarf, necklace, sequined Ugg boots. They stood to sing along to O Come All Ye Faithful, as the tree lights twinkled and candle light glinted off the polish brass, and the sounds of midtown Manhattan – sirens, people yelling, car horns, some guy from the Salvation Army ringing a bell – harmonized through the rose window.
Bill the conductor was all smiles. He blew a kiss to the choir "great job!" We filed off stage and headed back to the music room.
"If I never hear bells Klingen und singen even again I will be ok with that."
"We should really just have started it a semi tone lower and saved ourselves the bother of dropping pitch over three verses to get there."
"I'm exhausted. I want dinner, but I'm not sure I can be bothered to eat. Maybe something with a spoon."
"It does feel Christmasy though, doesn't it?!"
"All I want from Santa for Christmas," said a mini chorister as we buttoned our coats and headed out into the night, "is Everything!"
This is exactly that kind of hot chocolate.
Candy Cane Hot Chocolate (makes 4 small, 2 larger cups)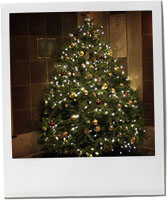 2 1/2 cups whole milk
1 bar dark chocolate
2 tsp brown sugar or honey
3 shots peppermint schnapps
1 cup heavy (whipping) cream
2 – 4 candy canes
 
Bring the milk and sugar to a simmer, then take it off the heat
Break the chocolate into small pieces and drop into the milk. Wait for 30 seconds. Mix the now melted chocolate into the milk (return to the heat if necessary until the chocolate is entirely melted
Stir in the peppermint schnapps and pour into cups
Whip the cream and float on top of the hot chocolate. Decorate with a candy cane stirrer
If You Can Make That You Can Make This
Use flavored chocolate to change things up – Green and Black's spicy Mayan Gold is especially delicious
Use orange liquor and good quality milk chocolate for a hot chocolate version of my favorite Christmas confection, Terry's chocolate orange
Try a frozen hot chocolate