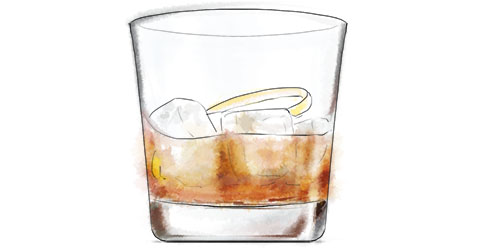 In the chip shop in the town in Scotland where my husband grew up, they will literally batter and deep fry anything. Sausages? Why not. Pizza? Obviously. Chocolate bars? Nae problem.
Honestly, I assumed the whole deep friend Mars Bar thing was a bit of a joke, until I made fun sized versions for a Burns Night party when we lived in Poland, and they were the runaway hit of the night.
The key here is fun sized. Or full sized bars cut into chunks. The size keeps them from killing you.
Raising the tone somewhat, a Scotch Mist is a gently old fashioned cocktail, popular in the 20s. The name alone would be reason enough to make them, but the lemon really does change the taste, meaning that there's a chance that people who don't much care for the hard stuff will enjoy this cocktail and feels as though they had whisky on Burns Night, which is, of course, the whole point.
And so, a grace from the man himself on his birthday;
Some hae meat and canna eat, And some wad eat that want it;
But we hae meat, and we can eat, And sae the Lord be thankit.
Deep fried Mini Mars Bars (serves 6)
12 fun sized Mars Bars
1 ½ cups self raising flour
1 egg
1 cup milk
Pinch of salt
Vegetable oil for frying
 
Freeze the mini Mars Bars
Meanwhile, whisk the egg and milk into the flour and salt, then chill for half an hour in the fridge
Heat about 3 cups of vegetable oil in a deep pan until it reaches about 350f – if you drop a bit of batter in it should sizzle immediately
Dunk the Mars Bars in the cold batter, then fry for about a minute until the batter is golden brown. Drain on kitchen towels, then eat
Scotch Mist
1 measure of scotch
1 curl of lemon peel
2 or 3 ice cubes
 
Shake the scotch and ice and pour into a glass (with the ice)
Squeeze the lemon peel into the drink to release the oil, then drop that in too as a garnish