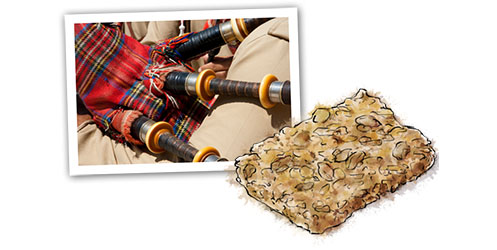 My husband and I are stalked by bagpipers. We go shopping in Edinburgh. There's a bagpiper. We honeymoon in Paris. Bagpiper. Machu Picchu after three days hiking the Inca Trail. Bagpiper. And now, several blocks away, the dulcet tones of that weapon of war drift up to me as I type.
It's for Burn's Night apparently. The bar is doing a whiskey and Burns Night special all week. After which, I'm assured, the piper will go away. Probably until St Patrick's Day.
In the mean time, I turn for solace in baking – Millionaire Shortbread, (from Jon's Granny Hannah's recipe) and flapjacks.
Flapjacks are not cupcake glamorous. They're not chocolate brownie indulgent. They're not the kind of baking that garners accolades and cooing. But they are delicious. And this should not be underestimated.
Also, they're pretty hardy. Jon's mum used to post us parcels of them when we were at University. They travel well. They're a welcome low key gift for people who are going hiking, moving apartment, taking exams, bringing home a new baby, heading to Iowa for a family reunion. The very plainness of a flapjack hits the spot, nourishing and comforting without showing off.
Just getting out the tin of golden syrup makes me feel nostalgic for the bake sales of my childhood. In go the oats and the dark, smoky demerera sugar. Such a lovely word. De ma re ra. My mum would serve it with coffee at dinner parties. "Katherine, can you fill up the sugar bowl with demerera?" then all alone in the dining room, I would stick my finger in and take a little lick.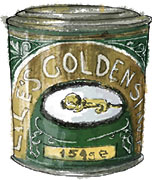 170g butter
2tbsp golden syrup
170g demerara sugar (or brown sugar)
225g oats
 
Preheat the oven to 350f
Melt the butter and syrup over a medium heat
Fold in the sugar and oats
Spread into a greased baking tin and bake for 25 – 30 mins
Score with a knife while warm, then leave to cool and cut
If You Can Make That You Can Make This
Use half the sugar, but add dried fruit – cranberries are my favorite
Add nuts
Add seeds
Add chocolate chunks
Or try these coconut chocolate breakfast bars