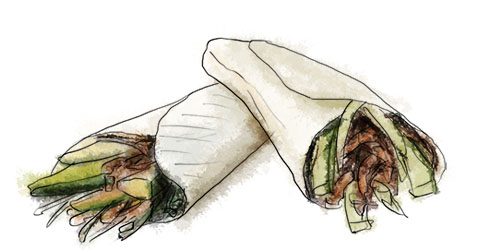 Through the wonder of the internet, my friend Jen has discovered a disquieting fact about her ex boyfriend: "his new girlfriend looks exactly like me."
This, ladies and gentlemen, is the true legacy of facebook.
"Same shoulder length brown hair, same blue eyes, same height, same build, same denim jacket – I mean the exact same one! I actually saw one picture, thought it was me, then realized; I've never been to Disney World."
Like Hugh Hefner to a peroxide blond teenage bikini model twin, some people are drawn to a type.
When I was at school I had a friend who only dated guys if they were Irish, 15 years older than her, and, very important, owned their own car. Now, I have a friend who dates a gamut of men, as long as they wear suits and are called things like Donovan or Hamish, and, most importantly, own their own apartment.
Yet another friend constantly brings interchangeable younger women who play guitar and sing in alternative bands to parties. He'd want me to note in fairness, that some of them are blond, some brunette, and one was Balinese. So they do sometimes look a little different from each other, you know, in that kooky, vintag-y, Topshop-y, I wear glasses even though I don't need them way that makes them in fact all look exactly alike.
As far as dating goes, I am emphatically not a person with a type. I married a tall, handsome man who looks like a younger LL Bean catalogue model. I fancy both Russell Brand and Ian Hislop. No. It's not pretty.
But when it comes to Chinese New Year, I am unable to consider alternates.
I will be eating slow roast duck. Sure, there are buns this year, not pancakes. But that's just owning a 2 bed on Lexington rather than Madison, being a hipster who wears tortoise shell rather than black glasses. It fools nobody.

Slow Roast Duck (serves 2 – 4)

1 whole duck – for two people you're looking for a small duck, a bit smaller than a chicken. Obviously for more people, get a bigger duck or roast 2. I either buy my ducks in China Town, or from www.culverduck.com. Remember that leftovers are going to be awesome and desirable.
½ a hot house cucumber
5 scallions (spring onions)
Jar of plum sauce
As many packets of buns or pancakes as you think you'll need – I'd go with 4 per person, plus extras. Too many is no problem. See leftovers.
1 tsp five spice powder
½ tsp salt
1 tsp cinnamon
½ tsp ginger
 
Pre heat the oven to 325 (180 ish)
Pat the duck dry with paper towels and cut off the flap of fat at the neck
Rub the skin with the spices and salt
Put on a rack in a deep tray in the oven
Roast gently for 4 ½ hours making sure to drain the fat a couple of times – ideally every hour. (save for roast potatoes another day ideally)
Drain the duck one last time so your kitchen doesn't smoke out, then turn the oven up to 400 and roast for another ½ hour to crisp up the skin a bit
At some point while the duck is cooking, slice the cucumber and scallions into thin matchsticks and put in little bowls, open the jar of plum or hosin sauce and decant into a little bowl for added fanciness
Shred the duck with a couple of forks
Serve with several packets worth of shop bought buns or pancakes, steamed microwaved, or otherwise heated up, according to the instructions on the packet. This duck is also delicious with rice, a little soy sauce and a few sugar snap peas

If You Can Make That You Can Make This
Slow roast a shoulder of pork in exactly the same way, with exactly the same spices. Delicious on sandwiches or with rice
Slow roast the duck in exactly the same way, Â with salt, pepper and a little rosemary, then serve with stewed plums for a Polish take on the dish. Use the fat to fry some sliced potatoes as a side dish
Roast a chicken with lemons
Or try one of these roasts