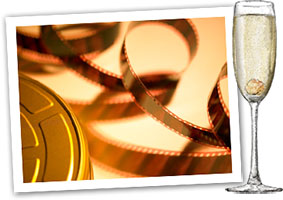 In a stunning departure from the norm, and in particular, from last year's Oscar shame of having seen a sad total of 2 nominated movies before the awards, Jon and I took my visiting parents to see the Animated Shorts at the IFC on Saturday night.
My Father, who wanted to see the documentary shorts and was outvoted, pretty much immediately went to sleep as soon as the cartoons started.
But for the rest of us, all the flying books, whimsical child fishermen, and messed up penguins we could want, and the great reassurance of knowing that by the time we decided we didn't much care for a film, it was already half over.
This means my Oscars betting ballot is in better shape than last year, and I am cautiously optimistic about winning the office sweepstake and being extremely smug. But if that doesn't go to plan, I'll settle for champagne and canapés and second hand glamour. Living that great Oscars lie – winning doesn't really matter. I'm just thrilled to be a part of it.
Classic Champagne Cocktail (per glass)
If you're throwing an Oscar bash, this probably the cocktail you want to consider – the classic combination of bitters, sugar and bubbles.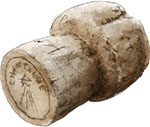 1 sugar cube
3 drops of Angustora Bitters
Chilled champagne
lemon twist
 
Drop the bitters onto the sugar
Place the sugar cube in the bottom of a champagne flute and top up with bubbles
Add a twist of lemon
If You Can Make That You Can Make This
Add 1 tbsp of cognac to the glass before topping up with champagne