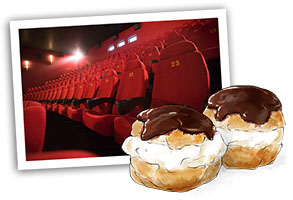 As the Oscars approach, we naturally become more concerned with movies and their stars. Some of us, more literally than others."I believe that a person's energy can linger after they've gone, and haunt the place they inhabited," said a guy, apropos of nothing, as we sat at the bar.
"Take my apartment, for example," he expanded. "I'm in it, and suddenly, I feel this spirit. It's hard to explain. But it's a good omen, because I'm a very creative person, and so was she, so it's all this amazing creative energy in my apartment. Sometimes things rattle, sometimes there are strange noises, sometimes I feel breezes. The spirit is very intense."
It was hard to know what to do with this information.
Eventually I tried, "have you told your landlord?"
"Oh, he knows all about it," said the guy. "He has this actual picture of Susan Sarandon living in my apartment. She's young, in her early 20s. It's when she first moved to New York. He showed it to me before I moved in. He's really proud of it."
It took me a moment to make sense of this. "So your apartment is haunted by the spirit of Susan Sarandon?" I checked.
"Yes."
"You know she's still alive, right?"
"Yes. So?"
We drank in silence, while I gave these claims some thought. Crazy as it sounded, I rather liked the idea of having a 20 something Susan Sarandon apartment spirit. Think of the fun we could have. We could duet to Rocky Horror, for instance.
But no dead or living celebrities have ever inhabited my apartment, and I can go about my Oscar party cooking un-enriched by supernatural presence.
I'm making a spin on last year's cocktail food – with the addition of mini truffled mac n cheeses and these mini profiteroles.
Profiteroles (makes 24 – 30)
For the Choux Buns
1/2 cup milk
1/2 cup water
1 stick butter (8 tbsp)
1 tsp sugar
pinch of salt
1 cup flour
4 extra large (US) large (US) eggs
 
Preheat the oven to 425f
Dice the butter and put in a pan along with the milk, water, sugar and salt. Gently heat to a simmer
Turn off the heat and dump in the flour, stirring until the dough comes away from the sides of the pan (like playdough)
Add 2 eggs and stir to incorporate – it will look dreadful, keep mixing and have faith. Add the last 2 eggs and stir until smooth.
Line baking sheets with parchment or slip mat, then use teaspoons (or the melon baller) to scoop out buns – leave a bit of space for spreading
Bake one sheet at a time in the middle of the oven for 11 mins. Turn the heat down to 400 and bake for 11 minutes with the door slightly ajar (I stick a wooden spoon handle in it to keep it open a little) Keep an eye on them because ovens really vary a lot
Cool on  a baking rack until needed
For the chocolate sauce and filling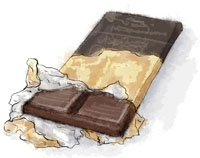 2 pints cream
3/4 cup milk
7 oz dark chocolate
2 tsp dark rum
 
Heat the milk until just about to simmer
Chop the chocolate and add to the milk off the heat, stirring until melted – put back on a gentle heat for a few minutes if needs be to make the sauce smooth
Stir in the rum
Whip the cream
Slice the buns almost in half, fill with cream – use a tsp or a piping bag for neatness – top with the chocolate sauce
If You Can Make That You Can Make This
Fill the buns with ice cream instead of whipped cream – use a melon baller to scoop out the ice cream, then freeze on a slip mat until you're ready to pop them into the buns
Or fill with some herbed goat cheese and sprinkle a little Parmesan over the top of the buns before baking
Drizzle with melted white chocolate rather than chocolate sauce and leave the harden before eating
Make large buns and fill with cream and strawberries