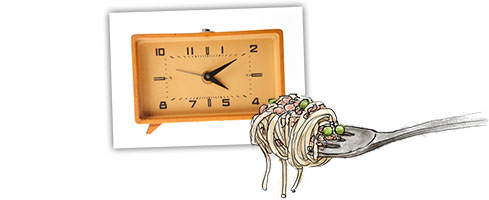 Not entirely out of the blue, I was able to plug my fascinating fact of the week into conversation: "Did you know," I told the assembled company, "that Pepsi Cola was originally called Brad's Drink?"
"No way," gasped an unbelieving Jeremy.
"Yes way." I told him. "Caleb Bradham invented it in 1893, and it wasn't called Pepsi Cola until 1898."
We sat in stunned silence for a moment digesting this game changer.
This was apropos of my friend Hilary's news that after 10 years or so of faithful service, her alarm clock had to be replaced with a younger model. This new alarm clock had a giant button for hitting if you wanted an extra ten minutes rest in the morning.
"Didn't the last one have that?" we wondered.
"Kind of," admitted Hilary, "though it was a really small and hard to reach button, and it wasn't called "snooze" it was called "drowse". It's amazing to think, isn't it, that there was a time when it could have been "drowse" it could have been "snooze" either way, then "snooze" tipped the balance, and now that's the word for having a few more minutes in bed in the morning."
We all agreed that it was amazing to think of it.
Like knowing that ABBA was almost called Festfolk, or that Google was originally called BackRub.
Not to be outdone, Jon was keen to showcase his useless trivia too: "Microwaves were originally called Radar Ovens."
This literally blew our minds.
Later, Jon and I were settling down for dinner and an episode of Castle.
"It really could have been "drowse" not "snooze"." He mused. "How do you think it happens? That one name for a thing takes off over another."
I flicked through the DVR channels.
"If Alfredo di Lello had never existed" said Jon, "we would be eating pasta with cream sauce right now, not Fettuccine Alfredo. But it would still be delicious."
It was a good test of that old Shakespearean theory; a rose by any other name would smell as sweet.
Fettuccine Alfredo with peas and pancetta (serves 4)
This is extremely easy to make, and extremely easy to eat. It's the kind of meal that feels like a real treat at the end of a busy week, but that's totally do-able if you've invited people over for dinner about 10 minutes after you get home from work.
Add a bag of salad, a French Stick, and dinner is well within grasp.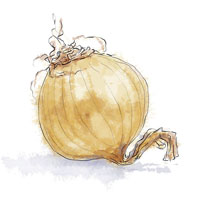 About 1 lb of Fettuccine
1 onion
1 tbsp butter
2 cloves garlic
1 cup frozen peas
½ cup white wine
¼ cup chopped pancetta (I buy it in packets already diced. You could also use bacon if you prefer)
¾ cup cream
½ cup grated Parmesan cheese
Salt and pepper
 
Put on a large pan of water to boil
Dice the onion, season, and fry on a medium heat along with the pancetta in the butter until golden and soft (about 5 mins). Grate in the garlic
Once the water is boiling, salt liberally – a couple of tsp – and add the pasta. Stir, then bring back to the boil and set a timer for 1 min less than the package instructions
Pour the white wine into the pan to deglaze – scrape up all the bits and reduce by about half
Add the peas and the cream and cook gently to reduce and thicken slightly
Once the pasta is cooked drain and add to the cream mixture to cook for one more minute
Toss in the cheese and serve in warmed bowls
If You Can Make That You Can Make This
Add a few handfuls of arugula and let the greens wilt in the heat
Top the dish with a few handfuls of chopped parsley and some toasted pinenuts
Add chopped asparagus along with or instead of the peas
Add roasted butternut squash instead of the peas
Add fried sliced mushrooms instead of the peas, and finish off with a tsp or two of truffle oil
Leave out the peas but add the juice and zest of half a lemon
Switch out the Parmesan for crumbled Gorgonzola, and let the cheese melt into the sauce with the pasta
Try making your own pasta