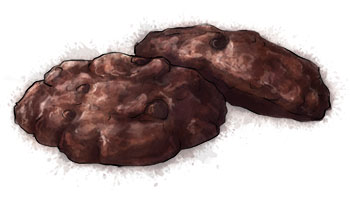 Jon and I were having dinner in the kind of restaurant where you're practically sitting on your neighbor's lap, and it was impossible not to overhear their conversation, though, I'll admit, I wasn't exactly trying not to.
Three guys, 30 something. One was getting married. One was the best man. The other guy was mainly eating pizza. Talk turned to the all important speech.
"Well obviously, I'm going to tell the Tangiers story," said the best man.
"Absolutely not," vetoed the groom.
"But it's the best one! Come on!"
"No way," the groom was adamant. "Her family is totally strict. Literally no way."
"But it's such a good one!" whined the best man.
"Not really," said the groom to be. "You pull down your pants, you tuck it in, everyone thinks you're a girl. That's it. End of story."
These are the kind of cookies you serve to people when you want them to stay, have a cup of tea, and confide in you any story equal to or better than that.
Chocolate Hazelnut Cookies (makes 2 dozen)
These cookies are dense and deeply chocolate – it's the coco powder that gives such a smoky richness.
1 stick soft butter
½ cup light brown sugar
1 egg
1 tsp good vanilla extract
1 cup flour
¼ cup coco powder
1 cup chocolate chips
½ cup chopped hazel nuts
 
Preheat the oven to 350f – pop the hazelnuts on a baking tray and roast for a few minutes until just starting to brown – keep an eye on them, nuts burn really easily
Cream the butter and sugar in a mixer until light and fluffy
Add the egg and vanilla extract, then incorporate the flour and coco a couple of tbsp at a time until mixed
Stir in the chocolate chips and hazel nuts
Use 2 tsp to scoop out mixture, roll in your hands to shape, and lay on a baking tray covered with parchment or slip mat. (You can keep the cookie dough in the fridge for a couple of days, bring to room temp for 15 mins or so, then roll)
Bake for 12 minutes. Eat warm
If You Can Make That You Can Make This
Replace the hazelnuts with white chocolate chips
Add a handful of cranberries to the mix
Replace the hazelnuts with caramels diced up into little pieces. Sprinkle a pinch of salt over the cookies before baking
Leave out the nuts, but add the zest of one orange
Or try these shortbread cookies
Or these ginger cookies